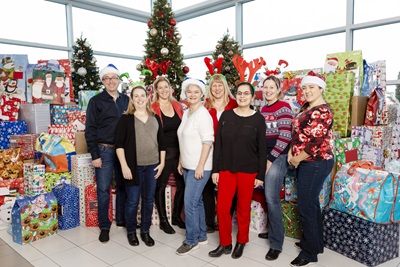 2019 Opération Père Noël: Once again this year, Lowe's Canada and its employees are the official Santas of Montreal's South Shore
382 employees at the Lowe's Canada Boucherville and Longueuil offices are sending some Holiday magic to 596 underprivileged children in the region
Boucherville, QC – December 13, 2019 – The mood was festive this morning at the Lowe's Canada head office in Boucherville as Opération Père Noël elves came to meet the company's employees and pick up the mountain of presents destined for 596 underprivileged children, most of them living on Montreal's South Shore. The annual Opération Père Noël campaign gives participants the chance to become Santa and brighten the Holiday season of thousands of children across Quebec who would otherwise have no present to unwrap on the morning of December 25. This year, 382 employees at the Lowe's Canada Boucherville and Longueuil offices chose to become the own personal Santa of one or more children.
"People who choose to be a child's Santa are giving far more than just presents. They also share some Christmas magic with a family," explained Normand Brault, co-founder of Opération Père Noël, which is celebrating its 25th anniversary this year. "Every year, we push our limits to reach as many children as possible, and we couldn't succeed without help from our valued partners. We are grateful to be able to count on the invaluable support and generosity of Lowe's Canada and its team year after year."
As the region's leading corporate contributor in terms of the number of children who receive gifts, Lowe's Canada and its employees are once again the South Shore of Montreal's official Santas this year. "The Opération Père Noël campaign generates a lot of enthusiasm among our employees, who always look forward to receiving their letters," said Jean-Sébastien Lamoureux, Senior Vice-President, Public Affairs, Asset Protection and Sustainable Development at Lowe's Canada. "As a large company, we have the privilege of being able to reach thousands of people across the country. It is important for us to use this reach to rally our teams and communities behind causes that matter to us."
Accompanied by personalized letters to the children from Santa himself, the presents were piled impressively high this morning under the tall Christmas trees in the Boucherville head office cafeteria. Over the next few days, Opération Père Noël elves will deliver these precious packages to the children, who will be delighted to find them under their Christmas trees on the morning of December 25.
To share this news on social media, please use @Lowe's Canada (LinkedIn) and @LowesCanadaCorp (Twitter).
About Opération Père Noël
Opération Père Noël is a foundation that allows generous donors to become Santa for an underprivileged child who would otherwise not receive a Christmas present, let alone their dream present. The foundation allows these children to experience the magic of Christmas with the kind help of donors who commit to buying presents requested by the children in their letters, wrapping them, and giving them to Opération Père Noël volunteers. From Santa's workshop and its regional points of service, thousands of presents are sent by the foundation to children in 16 different regions of Quebec. To fulfill its mission, the foundation relies on partners working with underprivileged families in the youth and family help network (Health and Social Services Centres, and other community organizations). For more information and to find out what you can do to help the foundation in its mission, head to www.operationperenoel.com.
About Lowe's Canada
Lowe's Companies, Inc. (NYSE: LOW) is a FORTUNE® 50 home improvement company serving more than 18 million customers a week in the United States and Canada. With fiscal year 2018 sales of $71.3 billion, Lowe's and its related businesses operate or service more than 2,200 home improvement and hardware stores and employ approximately 300,000 associates. Based in Boucherville, Quebec, Lowe's Canadian business, together with its wholly owned subsidiary, RONA inc., operates or services more than 600 corporate and independent affiliate dealer stores in a number of complementary formats under different banners. These include Lowe's, RONA, Réno-Dépôt, Ace and Dick's Lumber. In Canada, the companies have more than 28,000 associates, in addition to approximately 5,000 employees in the stores of independent affiliate dealers operating under the RONA and Ace banners. For more information, visit lowescanada.ca.