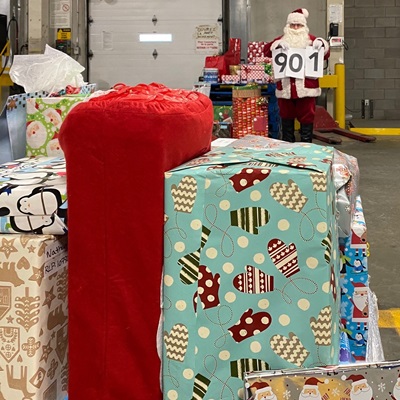 Some 900 gifts given to underprivileged children as part of the 2020 Opération Père Noël campaign
Lowe's Canada and its associates are the official Santas for the province of Quebec this year

Lowe's, RONA, and Reno-Depot have launched comforting Holiday initiatives benefiting customers and communities
Boucherville, Quebec – December 11, 2020 – Despite the distance, more than 400 associates of Lowe's Canada, one of Canada's leading home improvement retailers, came together in December to bring joy to hundreds of underprivileged children and families as part of the 2020 Opération Père Noël campaign. Thanks to their combined efforts, some 900 gifts will be distributed throughout Montreal's South Shore and elsewhere in Quebec.
"Opération Père Noël connects donors who choose to be a Santa to children who would otherwise have nothing to unwrap on Christmas Day," explains Thérèse Guillemette, co-founder of Opération Père Noël and Director of Operations for Quebec. "It is thanks to the generosity and commitment of our partners that our team of elves is able to offer the magic of the Holidays as a gift to thousands of households in need. We are all the more grateful for their support this year, as our operations have been greatly impacted by the pandemic."
Lowe's Canada maximized its partnership this year by reaching out to its network of stores in Quebec in addition to its head office, located in Boucherville, on Montreal's South Shore. A total of 17 of its corporate and affiliated dealer stores joined the initiatives and served as drop-off points to collect gifts from the community. In addition, the company provided Opération Père Noël with protective equipment so that the volunteers could carry out their work in a safe environment.
"In these particularly difficult times, it is more necessary than ever to do our part to brighten the Holidays for our communities and for families who have been through difficult months. Once again this year, our associates embraced the project and hundreds of them answered the call," says Jean-Sébastien Lamoureux, Senior Vice-President, Public Affairs, Asset Protection and Sustainable Development. "It is thanks to their efforts and generosity that we have been recognized as the largest corporate contributor to Opération Père Noël."
Holiday initiatives by Lowe's, RONA, and Reno-Depot
The Lowe's, RONA, and Reno-Depot banners have also launched various initiatives to give back to customers and communities. Among other things, followers of the Lowe's and Reno-Depot Facebook pages were asked to submit the reasons why they were particularly in need of a little Holiday magic. Our teams travelled to locations in Ontario and Quebec, respectively, to decorate the outside of the homes of two families whose applications stood out. Reno-Depot spokesperson, Dave Morissette, also joined our team in Quebec. In addition, the RONA team collaborated with two influencers, one from Quebec and one from Ontario, to come up with large-scale do-it-yourself decorating projects. Andrew Tchernilevskii and Viktor Sarudi from The Stump Shop each built a wooden Christmas tree, to which they then added lights and Holiday decorations. Their creations, as well as all the steps and products needed to make them, will appear in the Workshop section of the RONA website.
More options for safe shopping
For the health and safety of customers and associates and to make online shopping even more user-friendly, the Lowe's, RONA, and Reno-Depot banners now offer the Pickup Scheduler. This new feature allows customers to book a time slot at participating stores to safely pick up their order while staying in their vehicle. This option is in addition to parcel or truck delivery and in-store pick-up. For more details on the Pickup Scheduler, please visit lowes.ca, rona.ca, or renodepot.com.
About Opération Père Noël
Opération Père Noël is a foundation that allows generous donors to become Santa for an underprivileged child who would otherwise not receive a Christmas present, let alone their dream present. The foundation allows these children to experience the magic of Christmas with the kind help of donors who commit to buying presents requested by the children in their letters, wrapping them, and giving them to Opération Père Noël volunteers. From Santa's workshop and its regional points of service, thousands of presents are sent by the foundation to children in 16 different regions of Quebec. To fulfill its mission, the foundation relies on partners working with underprivileged families in the youth and family help network (Health and Social Services Centres, and other community organizations). For more information and to find out what you can do to help the foundation in its mission, head to www.operationperenoel.com.
About Lowe's Canada
Lowe's Companies, Inc. (NYSE: LOW) is a FORTUNE® 50 home improvement company serving approximately 18 million customers a week in the United States and Canada. With sales of US$72.1 billion for fiscal year 2019, Lowe's and its related businesses operate or service more than 2,200 home improvement and hardware stores and employ approximately 300,000 associates. Based in Boucherville, Quebec, Lowe's Canadian business, together with its wholly owned subsidiary RONA inc., operates or services more than 470 corporate and independent affiliate dealer stores in a number of complementary formats under different banners, which include Lowe's, RONA, Reno-Depot, and Dick's Lumber. In Canada, they have more than 26,000 associates, in addition to approximately 5,000 employees in the stores of independent affiliate dealers operating under the RONA banner. For more information, visit lowescanada.ca.