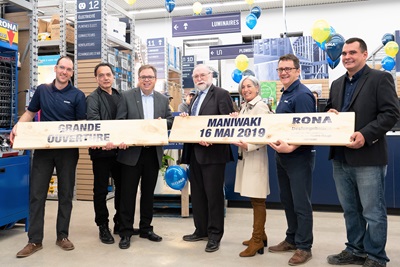 A first RONA Deslongchamps building centre in Maniwaki
Lowe's Canada celebrates the opening of dealer-owner Éric Deslongchamps's third location

This new store is the result of a $2.1-million investment and has created about thirty jobs
Boucherville, QC – May 16, 2019 – Lowe's Canada, one of Canada's leading home improvement companies, is celebrating the grand opening of the RONA Deslongchamps store, located at 79 Kichi Mikan (route 105) in the Algonquin community of Kitigan Zibi Anishinabeg, bordering Maniwaki, in Quebec. This is dealer-owner Éric Deslongchamps's first store in the Gatineau Valley, his two other stores being located in Rivière-Rouge and Mont-Laurier, in the Upper Laurentians. The store's renovation and design work, which took 14 weeks to complete, required an investment of $2.1 million. The opening of this third point of sale has created about thirty jobs.
"Our team is comprised of extremely competent and experienced people who possess a wealth of diversified knowledge that they put to the service of our customers and their projects. The community's welcome has been exceptional; we already know many professional and retail customers by their first names," said Kris Odjick, Manager of the new RONA Deslongchamps store.
"We offer the products and services our customers need to complete their home improvement projects, and we are especially proud to contribute to the vitality of the communities we serve," added Éric Deslongchamps, Store Owner. "This third store is perfectly in line with our commitment to becoming the go-to destination for the home improvement and construction projects of professionals and DIYers in the Upper Laurentians and Gatineau Valley."
The building in which the store is located has been completely renovated to reflect today's home improvement trends. With a 9,000-sq.-ft. sales floor, a 5,000-sq.-ft. indoor lumber yard, and a 75,000-sq.-ft. drive-through outdoor lumber yard, the store has over 18,000 products in stock, and thousands of additional products available on rona.ca. Consumers in and around Maniwaki can now place their order online before picking it up in store or taking advantage of the parcel delivery service. Contractors and professionals in the area can also have their orders delivered directly to their worksite thanks to the store's fleet of trucks.
"We are pleased to celebrate the opening of this new store and welcome the new team into our RONA affiliated dealer network. Éric Deslongchamps's business is steadily growing thanks to exceptional customer service and a real determination to meet the needs of local communities," said Philippe Element, Vice-President, RONA & Ace Sales and Dealer Support. "We are proud to be partners in RONA Deslongchamps's success since 2006."
An exclusive program for contractors
The Maniwaki store offers products and services that are adapted to professional customers and contractors:
A contractor rewards program (i.e., loyalty and pricing program);

Access to a 75,000-sq.-ft. drive-through lumber yard where contractors can load their vehicles directly to save time;

Personalized delivery services thanks to the store's fleet of delivery trucks;

Extended business hours to accommodate their schedules;

The products needed to complete their projects and the major brands they trust.
Grand opening events
Earlier today, local dignitaries joined Éric Deslongchamps, his team, and Lowe's Canada representatives to celebrate the store's grand opening with an official board cutting ceremony and a community grant presentation. RONA Deslongchamps donated $1,500 to the Kitigan Zibi Community to support the 30th traditional Pow Wow, as well as $750 to Halte-Femme Haute-Gatineau and $750 to Suicide Détour in Maniwaki.
To share the news, please use @Ronadeslongchamps (Facebook), @RONAinc (Twitter), and @RONA (LinkedIn).
About RONA Deslongchamps
For over 80 years, RONA Deslongchamps has been meeting the constantly evolving needs and expectations of its retail and professional customers. The extensive know-how of the great home improvement families—Constantineau, Whear, Daudelin, and Deslongchamps—entwined in the business's history, has shaped its identity. Known for its excellent service, the business is also deeply involved in the communities it serves. With its three stores located in Mont-Laurier, Rivière-Rouge, and Maniwaki, RONA Deslongchamps is the go-to destination in the Upper Laurentians and Gatineau Valley for construction, home improvement, and decoration projects.
About RONA
Created in 1939, RONA is a banner of Lowe's Canada, one of Canada's leading home improvement companies headquartered in Boucherville, Quebec. Spanning the entire country, its vast network of more than 400 stores includes both corporate stores and independent affiliated dealer stores. Known for its large in-store and online product selection as well as for its installation services, RONA also provides expert support and advice to its retail and pro customers for their building and renovation projects. For more information, visit rona.ca or follow us on Twitter, Facebook, and Instagram.
About Lowe's Canada
Lowe's Companies, Inc. (NYSE: LOW) is a FORTUNE® 50 home improvement company serving more than 18 million customers a week in the United States and Canada. With fiscal year 2018 sales of $71.3 billion, Lowe's and its related businesses operate or service more than 2,200 home improvement and hardware stores and employ approximately 300,000 associates. Based in Boucherville, Quebec, Lowe's Canadian business, together with its wholly owned subsidiary, RONA inc., operates or services more than 600 corporate and independent affiliate dealer stores in a number of complementary formats under different banners. These include Lowe's, RONA, Réno-Dépôt, Ace and Dick's Lumber. In Canada, the companies have more than 28,000 associates, in addition to approximately 5,000 employees in the stores of independent affiliate dealers operating under the RONA and Ace banners. For more information, visit lowescanada.ca.