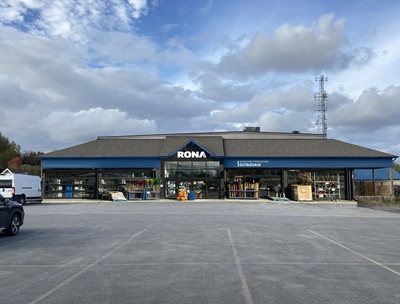 A new name and two new stores for RONA Val-des-Monts
RONA Val-des-Monts owners acquire two stores in Papineauville and Buckingham

The three-store group will now operate under the name RONA Outaouais
Boucherville, QC – April 6, 2022 – It is with great pleasure that Lowe's Canada, one of Canada's leading home improvement retailers operating or servicing some 450 corporate and affiliated stores under different banners, congratulates Chantal Veilleux and Claude Bélec, owners of RONA Val-des-Monts, for the acquisition of their two new stores formerly operated by Matériaux Bonhomme. The stores, located at 2761 Papineau Street in Papineauville and 700 Dollard Street in Buckingham, join the Val-des-Monts store to form RONA Outaouais, becoming the largest dealer in the home and commercial improvement industry in the region.
"It is with great pleasure that we are announcing this big news. We are pleased to continue offering local services to the people of Papineauville and Buckingham, while providing access to the products and services that made our reputation, allowing consumers to find everything they need to complete their projects from start to finish," said Ms. Veilleux and Mr. Bélec. "Customers will continue to enjoy the same level of service with the same experienced teams they are used to, while gradually seeing our offering expand over the coming months."
"The Matériaux Bonhomme team is proud to pass the torch for these two stores to Chantal Veilleux, Claude Bélec and their team. Employees and customers alike will be in good hands with these well-established, dynamic entrepreneurs who are committed to providing the best service," said Paul Bonhomme, owner of Matériaux Bonhomme.
The new owners announced the acquisition to their employees at a private ceremony on April 5. "We are grateful for all the efforts our team made, especially in the difficult context we have been experiencing over the past two years, and we wanted to celebrate with them as well as officially welcome the Papineauville and Buckingham teams into our family," said Ms. Veilleux and Mr. Bélec.
Good news for the local communities
Acquiring and remodeling the two stores represented a local investment of several million dollars. In addition to keeping every current job, RONA Outaouais is recruiting for full and part-time positions in its two new stores. People wishing to apply can send their résumé to [email protected].
Until the end of the work scheduled for the summer, professional and retail customers will gradually enjoy an expanded product assortment including RONA's flagship brands such as SICO, Craftsman, John Deere, Weber, and Napoleon, while also having access to a selection of household appliances, seasonal products, and decorative items. Customers can also shop for over 100,000 products on rona.ca, then choose in-store pickup or home delivery. Professional customers can join the VIPpro program to get exclusive offers and other advantages.
"We have had the privilege of supporting Chantal, Claude, and their team since the very beginning, and to help them with their growth projects, so we are particularly happy to celebrate this milestone with them. As true ambassadors of the RONA brand, they not only provide exemplary customer service, but they also have the products and services customers are looking for. With the expansion of their business, they are definitely establishing themselves as the go-to home and commercial improvement destination in their communities," added Philippe Element, Vice-President, RONA Sales and Dealer Support at Lowe's Canada.
There will be a grand opening later this spring to celebrate with customers, partners, and the community. In the meantime, customers can stay on top of the latest news on RONA Outaouais' new social media.
To share this news, please use @RONAOutaouais (Facebook), @RONA Outaouais (Instagram), @Lowe's Canada (LinkedIn) and @LowesCanadaCorp (Twitter).
About RONA Outaouais
Founded in 2012, RONA Outaouais began with the Val-des-Monts Building Centre. After relocating the store in 2019 to better meet local customer needs, the team helmed by Chantal Veilleux and Claude Bélec transferred its business model to two additional stores in Papineauville and Buckingham in 2022, launching at the same time their slogan "RONA Outaouais, your favourite dealer!". With now more than 100 employees and over 17,500 products in inventory, the growing company with strong roots in Outaouais provides retail customers and contractors in the area with a complete offering to meet all their home improvement, residential, and commercial construction needs.
About Lowe's Canada
Lowe's Companies, Inc. (NYSE: LOW) is a FORTUNE® 50 home improvement company serving approximately 19 million customer transactions a week in the United States and Canada. With fiscal year 2021 sales of over $96 billion, Lowe's and its related businesses operate or service nearly 2,200 home improvement and hardware stores and employ over 300,000 associates. Based in Boucherville, Quebec, Lowe's Canadian business, together with its wholly owned subsidiary RONA inc., operates or services some 450 corporate and independent affiliate dealer stores in a number of complementary formats under different banners, which include Lowe's, RONA, Reno-Depot, and Dick's Lumber. In Canada, they have more than 26,000 associates, in addition to approximately 5,000 employees in the stores of independent affiliate dealers operating under the RONA banner. For more information, visit lowescanada.ca.