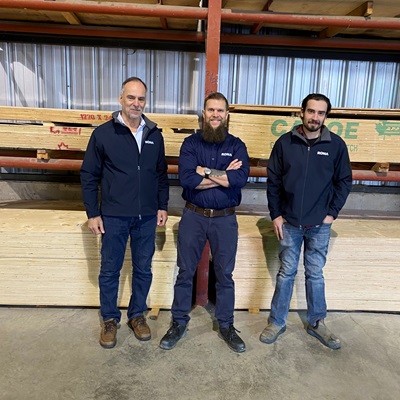 A New RONA Store in Fort Nelson, British Columbia
A million-dollar investment that will provide a renewed shopping environment

Boucherville, QC, December 5, 2022 – Lowe's Canada, one of Canada's leading home improvement retailers operating or servicing over 450 corporate and affiliated stores under different banners, is pleased to welcome Ed Bulley, owner of Ed's Building Supplies, to its network of RONA affiliated dealers. With a great history in its community since 1955, the Fort Nelson store, located at 4432-50th Ave N, is also announcing a 10,000-square-foot expansion that will provide retail customers with a renewed shopping environment and an improved offering.
"For us—my son, Derek, my nephew, Ryan, the Store Manager, and all of our employees—joining the RONA family means growth. The programs offered by RONA stand out in the market and will certainly allow us to increase our service and product offering," says Ed Bulley. "The expansion is now complete, and the new section will be available in February. Our teams are working restlessly to organize the store to provide the best possible experience," says Ed.
The total retail space will be 17,000 sq. ft., with a 11,750-sq.-ft. under roof lumber space and a 20,000-sq.-ft. outdoor lumber yard. Over 400 SKUs will be added across different categories, such as lighting, flooring, appliances, vanities and cabinets, plumbing, seasonal, and home décor. A wider range of Pro products will be offered, including lumber and building materials, as well as a larger selection of appliances and lighting clouds.
"Ed, Derek and Ryan have done an amazing work in upgrading their store to better meet the home improvement and construction needs of the local community. They invested time and effort to bring this project to life. We are delighted to count them among our RONA affiliated dealers and to support them with their future growth projects," said Philippe Element, Vice-President, RONA Sales and Dealer Support.
To share this news on social media, use @LowesCanadaCorp (Facebook), @Lowe's Canada (LinkedIn), and @LowesCanadaCorp (Twitter).
About RONA
Founded in 1939, RONA is a banner of Lowe's Canada, one of Canada's leading home improvement retailers headquartered in Boucherville, Quebec. Spanning the entire country, the vast network of more than 360 RONA stores includes both corporate stores and independent affiliated dealer stores. Known for its large in-store and online product offering, RONA also provides expert support and advice to its retail and professional customers for their construction and home improvement projects. For more information, visit rona.ca or follow us on Twitter, Facebook, Instagram, Pinterest, and YouTube.
About Lowe's Canada
Lowe's Companies, Inc. (NYSE: LOW) is a FORTUNE® 50 home improvement company serving approximately 19 million customer transactions a week in the United States and Canada. With fiscal year 2021 sales of over $96 billion, Lowe's and its related businesses operate or service nearly 2,200 home improvement and hardware stores and employ over 300,000 associates. Based in Boucherville, Quebec, Lowe's Canadian business, together with its wholly owned subsidiary RONA inc., operates or services some 450 corporate and independent affiliate dealer stores in a number of complementary formats under different banners, which include Lowe's, RONA, Reno-Depot, and Dick's Lumber. In Canada, they have more than 26,000 associates, in addition to approximately 5,000 employees in the stores of independent affiliate dealers operating under the RONA banner. For more information, visit lowescanada.ca.