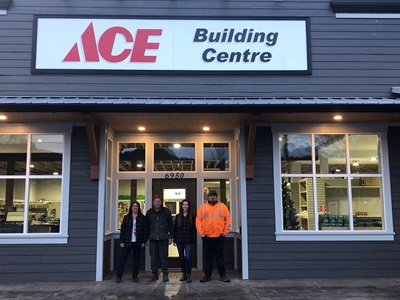 Ace Agassiz Builders' Ltd. now in a location three times bigger
The new building represents a local investment of approximately $1.8 million

The new

store employs three more people for a total of 10 employees
Boucherville, QC – November 19, 2019 – The most celebrated "helpful place" is proud to announce that the TeBrinke family that owns Ace Agassiz Builders' Ltd and their team officially inaugurated their new building located at 6950 Cheam Avenue in Agassiz, British Columbia, just a kilometre away from its previous location. The family-owned business invested $1.8 million to build this new location that is almost three times the size of its former one and created three extra jobs to maintain the same level of customer service.
The new store boasts 4,750 sq. ft. of retail space with an 800-sq.-ft. adjacent garden centre, a 5,000-sq.-ft. indoor lumberyard in a separate building, and a 23,000 sq.-ft.-outdoor lumberyard. Local customers now have access to entirely new categories, such as outdoor equipment and seasonal products. Ace Agassiz Builders' Ldt. also offers a wider assortment in existing categories such as tools, plumbing, lighting, and paint, as well as the high-quality lumber building materials customers are accustomed to.
A family and community-centred business
Paul TeBrinke, one of the dealer owners, was already farming and contracting before he got into the lumber business with his wife, Rose, and their children, Katelyn and Shaun, in 2013. "We bought Agassiz's only lumberyard business six years ago because we wanted to keep the service in our community. When we joined Ace in 2016, we realized we could also better meet the needs of our neighbours by adding a variety of home improvement products. The response from the community was amazing, and we rapidly outgrew our 2,000-sq.-ft. location," said Mr. TeBrinke. "It took over a year, but with the help of Ace's team of experts, we completed the daring task of changing location and we are proud to open our new building centre today, together as a family."
More to come in the next few months
The store is planning an official grand opening in the spring to celebrate with the community. In the meantime, the TeBrinkes are looking to add even more features to their store, such as an Appliance department and e-commerce capabilities through acecanada.ca.
"When I first met the TeBrinkes, I knew they had the values, the skills, and the will to become proud Ace dealers," mentioned Tony Perillo, Director of Business Development – RONA & Ace Canada. "They really have what it takes to operate a successful business for decades to come."
To share the news on social media, please use @AceCanadaStores (Twitter), @Ace Canada (LinkedIn), and @agassizbuilders (Facebook).
About Ace Canada
For more than 90 years, Ace Hardware has been known as the helpful place in thousands of neighborhoods globally, providing customers with a more personal kind of helpful. With more than 5,000 hardware stores locally owned and operated around the globe, Ace is the largest retailer-owned hardware cooperative in the world. In Canada, RONA inc., a wholly owned Lowe's subsidiary, has the master license agreement for the Ace brand. Ace Canada is proud to be part of Lowe's Canadian businesses, which together operate or service more than 600 corporate and independent affiliate dealer stores in a number of complementary formats under different banners. For more information on Ace in Canada, visit www.acecanada.ca.
About Lowe's Canada
Lowe's Companies, Inc. (NYSE: LOW) is a FORTUNE® 50 home improvement company serving more than 18 million customers a week in the United States and Canada. With fiscal year 2018 sales of $71.3 billion, Lowe's and its related businesses operate or service more than 2,200 home improvement and hardware stores and employ approximately 300,000 associates. Based in Boucherville, Quebec, Lowe's Canadian business, together with its wholly owned subsidiary, RONA inc., operates or services more than 600 corporate and independent affiliate dealer stores in a number of complementary formats under different banners. These include Lowe's, RONA, Réno-Dépôt, Ace and Dick's Lumber. In Canada, the companies have more than 28,000 associates, in addition to approximately 5,000 employees in the stores of independent affiliate dealers operating under the RONA and Ace banners. For more information, visit lowescanada.ca.