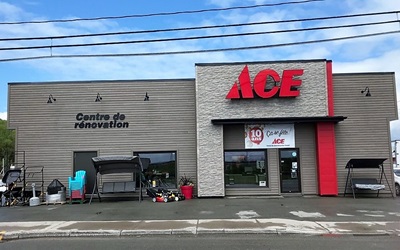 Ace Port-Daniel celebrates its 10th anniversary and offers its customers a summer of celebrations
Boucherville, QC – June 17, 2019 – The most celebrated "helpful place" joins dealer owner Richard Briand in celebrating the 10th anniversary of the Ace Port-Daniel store. Located at 518 Route 132 in Port-Daniel, in the Gaspésie region, this hardware store is known for its personalized service and selection of quality products tailored to the needs of local consumers. To mark the occasion, Briand chose to offer his customers a summer of celebrations: from Monday, June 17, to Monday, September 2, 2019, a prize will be drawn every two weeks among those who entered their name in store.
"It was important for my team and I to celebrate this milestone with our community," said Briand. "Over the past decade, we have built good relationships with local residents and we are happy to be able to count on loyal customers who make us want to get up every morning to help them carry out their projects. This major summer event is a great way for us to say thanks and celebrate 10 years of achievements and success with them."
Since Briand acquired the hardware store in 2009, it has experienced steady growth, resulting in the creation of five new jobs, among other things. Over the years, Briand has invested some $75,000 to refresh the store and tailor it to the changing needs of his customers. With a 2,800-sq.-ft. sales floor and a 15,000-sq.-ft. lumber yard, Ace Port-Daniel now offers approximately 6,000 products to residents in the area. Since 2018, they have also been able to access thousands of additional products at www.ace-canada.ca. Thanks to the "Click and Collect" service, they can shop whenever and wherever they want, then pick up their order in store when it is ready.
In addition to contributing to the vitality of the local economy through his business activities, Briand is actively involved in Port-Daniel's community life. Whether it is sponsoring a hockey tournament or providing paint and labour to refresh the local daycare, Briand is committed to supporting his community and making a real difference in the daily lives of his neighbours.
"We are proud to have Ace Port-Daniel among our affiliated dealer stores," said Philippe Element, Vice-President, RONA & Ace Sales and Dealer Support. "Over the past decade, we have witnessed Richard and his team's commitment to providing unparalleled service to their customers. It is a pleasure to work with such vibrant people and to see their efforts pay off. Congratulations to the Ace Port-Daniel team for these 10 years of great success!"
About Ace Canada
For more than 90 years, Ace Hardware has been known as the helpful place in thousands of neighborhoods globally, providing customers with a more personal kind of helpful. With more than 5,000 hardware stores locally owned and operated around the globe, Ace is the largest retailer-owned hardware cooperative in the world. In Canada, RONA inc., a wholly owned Lowe's subsidiary, has the master license agreement for the Ace brand. Ace Canada is proud to be part of Lowe's Canadian businesses, which together operate or service more than 600 corporate and independent affiliate dealer stores in a number of complementary formats under different banners. For more information on Ace in Canada, visit www.acecanada.ca.
About Lowe's Canada
Lowe's Companies, Inc. (NYSE: LOW) is a FORTUNE® 50 home improvement company serving more than 18 million customers a week in the United States and Canada. With fiscal year 2018 sales of $71.3 billion, Lowe's and its related businesses operate or service more than 2,200 home improvement and hardware stores and employ approximately 300,000 associates. Based in Boucherville, Quebec, Lowe's Canadian business, together with its wholly owned subsidiary, RONA inc., operates or services more than 600 corporate and independent affiliate dealer stores in a number of complementary formats under different banners. These include Lowe's, RONA, Réno-Dépôt, Ace and Dick's Lumber. In Canada, the companies have more than 28,000 associates, in addition to approximately 5,000 employees in the stores of independent affiliate dealers operating under the RONA and Ace banners. For more information, visit lowescanada.ca.