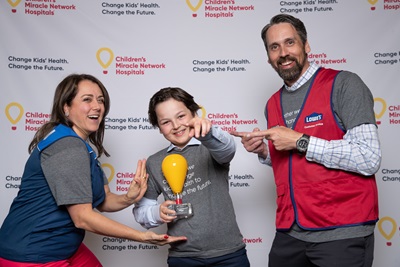 Lowe's Canada named 2021 Canadian Corporate Partner of the Year by Children's Miracle Network
Lowe's, RONA, and Réno-Dépôt corporate and participating affiliated store teams demonstrated extraordinary efforts and generosity to help children's health during a challenging year
Boucherville, QC – May 5, 2022 –
Canada's leading home improvement retailers operating or servicing some 450 corporate and affiliated stores under different banners, is proud to be named Canadian Corporate Partner of the Year by Children's Miracle Network (CMN) for 2021. This award recognizes Lowe's Canada's innovative approach, as well as its extraordinary resourcefulness and capacity to collaborate to support children's hospitals across the country.
"Despite circumstances in the last two years, which made fundraising more challenging than ever, we broke our previous record and donated over $1.2 million in 2021 for CMN's Canadian member hospitals and Opération Enfant Soleil in Québec," said Mélanie Lussier, Director, External Communications and Sustainable Development at Lowe's Canada. "This award speaks to our associates' passion and dedication toward helping the communities we serve and where we live. I am incredibly touched by our capacity to work together to achieve extraordinary outcomes in difficult times for such an important cause."
Above and beyond for children and their families in Canada
When Lowe's Canada's 2021 fundraising campaign came under pressure due to the COVID-19 pandemic, the organization made a corporate donation to make up for lost campaign progress. Despite pandemic-related restrictions and store closures in certain provinces, and thanks to the impressive customers' generosity, store teams' dedication, and the corporate donation, the campaign bounced back stronger than ever, leading to a record-breaking year. In addition, later in the fall, Lowe's Canada raised an extra $360,000 for CMN during its 2021 Vendor Forum.
"A huge thank-you goes to our associates, customers, and network of corporate and affiliated dealer stores for your efforts and generosity," added Mélanie Lussier. "Every contribution makes a difference to the thousands of children we've supported across Canada in the last four years of running this campaign."
Impressive support for CMN
Since 2018, Lowe's Canada's network of stores, including Lowe's, RONA, and Réno-Dépôt corporate and participating affiliated stores have collected over $3.2 million for CMN. All funds raised were given directly to children's hospitals in the province they were collected and helped children and their families from coast-to-coast.
This year's campaign, centred around Jessy and Ramona, a mother and daughter duo working at Lowe's Canada, has been extended until May 8 to maximize the reach. Customers wishing to contribute to changing children's lives can make a donation in stores and online, or buy raffle tickets in Québec for a chance to win the Maison Enfant Soleil built by Bonneville, for which Lowe's Canada is the official material supplier.
For more information on Lowe's Canada major philanthropic campaigns, including CMN, visit https://www.lowescanada.ca/en/corporate-responsibility/communities.
To share this news on social media, please use @LowesCanadaCorp (Facebook), @Lowe's Canada (LinkedIn) and @LowesCanadaCorp (Twitter).
About Lowe's Canada
Lowe's Companies, Inc. (NYSE: LOW) is a FORTUNE® 50 home improvement company serving approximately 19 million customer transactions a week in the United States and Canada. With fiscal year 2021 sales of over $96 billion, Lowe's and its related businesses operate or service nearly 2,200 home improvement and hardware stores and employ over 300,000 associates. Based in Boucherville, Quebec, Lowe's Canadian business, together with its wholly owned subsidiary RONA inc., operates or services some 450 corporate and independent affiliate dealer stores in a number of complementary formats under different banners, which include Lowe's, RONA, Réno-Dépôt, and Dick's Lumber. In Canada, they have more than 26,000 associates, in addition to approximately 5,000 employees in the stores of independent affiliate dealers operating under the RONA banner. For more information, visit lowescanada.ca.
About Children's Miracle Network
Children's Miracle Network® raises funds and awareness for 170 member hospitals, 14 of which are in Canada. Donations stay local to fund critical treatments and healthcare services, purchase pediatric medical equipment, and support research. Its various fundraising partners and programs support our mission to save and improve the lives of as many children as possible. Visit our website to learn more about our cause. In Canada, Children's Miracle Network is managed and operated by Canada's Children's Hospital Foundations®. www.childrensmiraclenetwork.ca