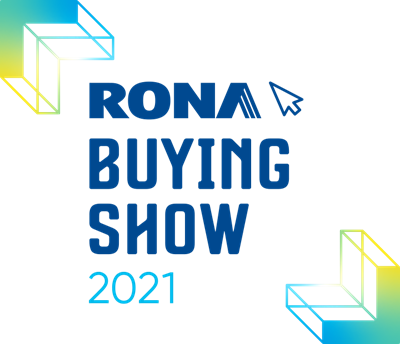 Dealers and vendors get together for the 2021 RONA Buying Show
The virtual event was officially launched today with conferences and the presentation of the RONA Builder of Success Program awards
Boucherville (Quebec), October 19, 2021 – With more than 500 registered participants from nearly 200 RONA affiliated dealer stores, this second virtual RONA Buying Show presented by Lowe's Canada saw once again a record participation rate among RONA dealers. Bringing together some 200 vendors, including many from Quebec and other provinces of Canada, this virtual event takes place on the same technological platform that was highly successful in 2020. This allows RONA dealers to discover new market products, get a sneak preview of the entire product selection that will be in stores in the spring and summer of 2022, and plan their purchases for the next six months. For seven weeks, i.e. until December 3, they will be able to discover new products from hundreds of vendors, meet our online experts, and, of course, take advantage of special offers and discounts.
A Big Show, Three Distinct Events
To give dealers more flexibility and a chance to make the most of the platform and offers, as well as to allow them to focus on running their in-store business, the Show was divided into three events. Each of the two- or three-week Buying Shows features specific product categories:
Home Decor

Lumber and Building Materials

Seasonal and Horticulture
In addition to the opening videos from Lowe's Canada's executive team members who speak directly to dealers, participants will also have access to thematic conferences, presentations, and workshops. Exhibitors are able to use the Show's platform to upload pre-recorded videos and promotional material to explain their products' features. Dealers will also have the opportunity to consult promotional offers and plan virtual meetings with members of the dealer support team. Everything has been designed to help RONA dealers easily navigate the platform and to optimize this virtual buying event, all while ensuring that it is user-friendly.
Dealers in the Spotlight
The recognition of RONA dealers is always an important part of this annual event. With the RONA Builder of Success awards, Lowe's Canada would like to recognize the outstanding achievements of its dealers in three categories, celebrating community involvement and succession planning, as well as presenting a special dealer Lifetime Achievement award.
"This annual event is an opportunity to reinforce our strong commitment to our RONA dealers and we are very proud to be able to publicly recognize their success," said Tony Cioffi, Senior Vice-President, Stores at Lowe's Canada. "As we operate in an ever-changing industry, we spare no effort to provide our dealers the tools to achieve their goals, conquer new markets, and fulfil their ambitions. Congratulations to all dealers, proud ambassadors of the RONA brand!"
The honoured dealers as part of the 2021 RONA Builder of Success program are the following:
Community Category:
This award recognizes the importance of social and corporate responsibility.

RONA Val-des-Monts (Val-des-Monts, Quebec), owned by Claude Bélec

Young Entrepreneur Category:
This award is presented to dealers under the age of 40 who have distinguished themselves by innovating, changing ways of doing things, and driving sales and growth.

Michael and Stephen Allen, RONA North Vancouver and RONA Powell River (British Columbia)

Lifetime Achievement Category:
This award is presented to a long-standing dealer whose career has inspired the next generation.

André Dagenais, owner of RONA H. Dagenais & Fils (Saint-Sauveur) and RONA H. Dagenais & Fils (Sainte-Anne-des-Lacs), RONA dealers since 1971
Years as a RONA Dealer
10 years
BFD RONA Building Centre Inc. (Kitchener, Ontario)
RONA Moffat & Powell (London, Ontario)
RONA Moffatt & Powell (Mitchell, Ontario)
RONA Moffatt & Powell (Exeter, Ontario)
RONA Moffatt & Powell (Strathroy, Ontario)
RONA Pemberton Valley (Pemberton, British Columbia)
RONA Lakeview Builders Supplies (North Bay, Ontario)
RONA Lakeview (North Bay, Ontario)
RONA Coast Builders (Madeira Park, British Columbia)
RONA Davies Hardware (Grand Bend, Ontario)
20 years
RONA Tinsco (Rawdon, Quebec)
RONA Villeray (Montreal, Quebec)
30 years
RONA Dolbeau-Mistassini (Dolbeau-Mistassini, Quebec)
RONA Quincaillerie Benoit Inc. (Laval, Quebec)
40 years
RONA Deslongchamps (Mont-Laurier, Quebec)
RONA Quincaillerie André Laberge Inc. (Huntingdon, Quebec)
50 years
RONA Chibougamau (Chibougamau, Quebec)
RONA Giroux & Giroux (Mansonville, Quebec)
RONA H. Dagenais & Fils Inc. (Saint-Sauveur, Quebec)
RONA Quincaillerie Grégoire & Fils Inc. (Matane, Quebec)
RONA Quincaillerie Séguin & Legault Inc. (Montreal, Quebec)
RONA Roland Tremblay & Fils Inc. (Baie-Comeau, Quebec)
RONA Vimont (Laval, Quebec)
60 years
RONA Pincourt (Pincourt, Quebec)
Quincaillerie Pont-Mercier Ltée (LaSalle, Quebec)
To share this news on social media, please use @Lowe'sCanada and @RONA(LinkedIn), @LowesCanadaCorp and @RONAinc(Twitter), and @RONAinc (Facebook).
About RONA
Founded in 1939, RONA is a banner of Lowe's Canada, one of Canada's leading home improvement retailers headquartered in Boucherville, Quebec. Spanning the entire country, the vast network of close to 375 RONA stores includes both corporate stores and independent affiliated dealer stores. Known for its large in-store and online product offering, RONA also provides expert support and advice to its retail and professional customers for their construction and home improvement projects. For more information, visit rona.ca or follow us on Twitter, Facebook, Instagram, Pinterest, and YouTube.
About Lowe's Canada
Lowe's Companies, Inc. (NYSE: LOW) is a FORTUNE® 50 home improvement company serving approximately 20 million customers a week in the United States and Canada. With fiscal year 2020 sales of nearly $90 billion, Lowe's and its related businesses operate or service more than 2,200 home improvement and hardware stores and employ over 300,000 associates. Based in Boucherville, Quebec, Lowe's Canadian business, together with its wholly owned subsidiary RONA inc., operates or services over 450 corporate and independent affiliate dealer stores in a number of complementary formats under different banners, which include Lowe's, RONA, Réno-Dépôt, and Dick's Lumber. In Canada, they have more than 26,000 associates, in addition to approximately 5,000 employees in the stores of independent affiliate dealers operating under the RONA banner. For more information, visit lowescanada.ca.