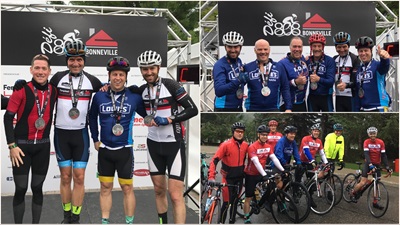 For a third year, Lowe's Canada co-presents the Bonneville 808 Challenge in support of the Foundation for Athletic Excellence
The Foundation will once again award Lowe's Canada grants to student athletes this year
Boucherville, QC – September 12, 2019 – Lowe's Canada, one of Canada's leading home improvement retailers, is proud to present the third Bonneville 808 Challenge in support of the Foundation for Athletic Excellence, alongside Fenplast. This long-distance cycling event will take place at Mont-Tremblant on September 13 and 14 and will welcome hundreds of cyclists taking part in challenging courses ranging from 115 km to 808 km. Lowe's Canada will be represented by a team of cyclists that will participate in the 202 km route.
"At Lowe's Canada, we are at the service of Canadians and their projects, whether they be related to home improvement or a podium finish," declared Jean-Sébastien Lamoureux, Senior Vice-President, Public Affairs, Asset Protection and Sustainable Development at Lowe's Canada. "We are happy to have been partners of this cycling event since its beginnings in order to contribute to the educational and athletic success of excellent student athletes."
As part of this partnership with the Foundation for Athletic Excellence, student athletes will be awarded Lowe's Canada grants. To share this news on social media, please use @Lowe's Canada (LinkedIn) and @LowesCanadaCorp (Twitter).
About Lowe's Canada
Lowe's Companies, Inc. (NYSE: LOW) is a FORTUNE® 50 home improvement company serving more than 18 million customers a week in the United States and Canada. With fiscal year 2018 sales of $71.3 billion, Lowe's and its related businesses operate or service more than 2,200 home improvement and hardware stores and employ approximately 300,000 associates. Based in Boucherville, Quebec, Lowe's Canadian business, together with its wholly owned subsidiary, RONA inc., operates or services more than 600 corporate and independent affiliate dealer stores in a number of complementary formats under different banners. These include Lowe's, RONA, Réno-Dépôt, Ace and Dick's Lumber. In Canada, the companies have more than 28,000 associates, in addition to approximately 5,000 employees in the stores of independent affiliate dealers operating under the RONA and Ace banners. For more information, visit lowescanada.ca.