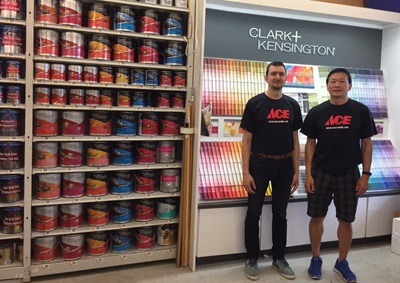 First hardware store in Walnut Grove set to open under the Ace banner this summer
Local entrepreneurs Al Tsuchiya and Michael Trentalance are eager to welcome customers to their new store, a local investment of $80,000 which will create 10 jobs
Boucherville, QC – May 10, 2019 – The most celebrated "helpful place" is proud to welcome a new store to the Ace Canada network. Owners Michael Trentalance and Al Tsuchiya, the latter of which also owns another Ace store in Port Coquitlam, are proud to be opening the very first hardware store in Walnut Grove. Located at 117 A – 8850 Walnut Grove Drive in Walnut Grove, British Columbia, this new location will feature 5,000 sq. ft. of retail sales area and is set to open in summer 2019. The conversion of the space to an Ace hardware store will translate into a local investment of $80,000 and will create 10 new jobs in the community.
With approximately 12,000 products in store and thousands more available on ace-canada.ca, Ace Hardware Walnut Grove will be providing the town's roughly 8,000 households with the expert advice and products they need to improve and maintain their home. "Together, Al and I have over 50 years of experience in the home improvement retail industry and we are thrilled to bring our expertise as well as the Ace value proposition to local families," said Mr. Trentalance. "Now, customers won't have to drive out-of-town to get the supplies they need for their home."
"I have wanted to open an Ace location in this community for several years and I am eager to welcome customers to our store," added Mr. Tsuchiya. "From plumbing to paint and seasonal items, we will carry all the essentials to help local homeowners carry out their home improvement projects, including top brands such as CRAFTSMAN®. And to make it even easier for our customers to find what they need for their home, we will be offering a Click and collect online shopping service allowing them to choose from thousands of items online whenever and wherever it is convenient for them to do so, and pick their purchases up in store."
"We are proud to partner with dedicated entrepreneurs like Al and Michael who are passionate about bringing outstanding customer service and value to their customers," said Philippe Element, Vice-President, RONA & Ace Sales and Dealer Support. "We look forward to working with them to help them bring their vision to life and reach their business goals."
About Ace Canada
For more than 90 years, Ace Hardware has been known as the helpful place in thousands of neighborhoods globally, providing customers with a more personal kind of helpful. With more than 5,000 hardware stores locally owned and operated around the globe, Ace is the largest retailer-owned hardware cooperative in the world. In Canada, RONA inc., a wholly owned Lowe's subsidiary, has the master license agreement for the Ace brand. Ace Canada is proud to be part of Lowe's Canadian businesses, which together operate or service more than 600 corporate and independent affiliate dealer stores in a number of complementary formats under different banners. For more information on Ace in Canada, visit www.acecanada.ca.
About Lowe's Canada
Lowe's Companies, Inc. (NYSE: LOW) is a FORTUNE® 50 home improvement company serving more than 18 million customers a week in the United States and Canada. With fiscal year 2018 sales of $71.3 billion, Lowe's and its related businesses operate or service more than 2,200 home improvement and hardware stores and employ approximately 300,000 associates. Based in Boucherville, Quebec, Lowe's Canadian business, together with its wholly owned subsidiary, RONA inc., operates or services more than 600 corporate and independent affiliate dealer stores in a number of complementary formats under different banners. These include Lowe's, RONA, Réno-Dépôt, Ace and Dick's Lumber. In Canada, the companies have more than 28,000 associates, in addition to approximately 5,000 employees in the stores of independent affiliate dealers operating under the RONA and Ace banners. For more information, visit lowescanada.ca.