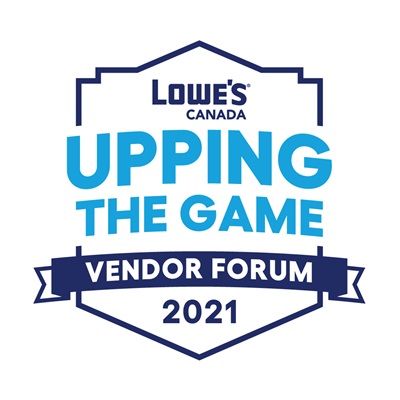 A successful first Vendor Forum for Lowe's Canada
Chervon, Samsung, and Waterline Named Vendors of the Year

The Lowe's Canada Foundation event raised $360,000 for Opération Enfant Soleil andChildren's Miracle Network
Boucherville, QC, November 5, 2021 – Lowe's Canada, one of Canada's leading home improvement retailers operating or servicing over 450 corporate and affiliated stores under different banners, held on November 4 its very first Vendor Forum for the Lowe's, RONA, and Réno-Dépôt banners. Over 600 participants from some 225 partner companies gathered to learn more about Lowe's Canada's strategies and priorities for the next year, as well as to exchange with members of the organization during plenary sessions and virtual workshops.
"As the retail industry is rapidly evolving, this unique event was a great opportunity to share our goals and vision with our vendors. We also had the chance to discuss with them on what the next steps are to make the most of our collaboration and continue to meet our customers' needs," said Chris West, Senior Vice-President, Merchandising at Lowe's Canada. "We took this opportunity to thank our vendors for their dedication and partnership over the past year, as we overcame the challenges and seized the opportunities presented to us, together."
Outstanding Vendors Rewarded
The remarkable work of three vendors was also highlighted during the event. They were recognized for their exceptional collaboration, creativity, agility, and product quality.
Chervon: Vendor of the Year – Hardlines
"Chervon is fully aligned with our customer-centric approach and is laser-focused on achieving mutual growth. Whether it's by working with us on the launch of an exclusive Outdoor Power Equipment line or by investing in key initiatives, this vendor is always ready to take on new challenges and opportunities," said Oliver Horton, Vice-President, Merchandising – Hardlines.
Samsung: Vendor of the Year – Home Décor & Appliances
"Samsung has made huge efforts in 2021 to offer a strong level of service in this very difficult year of supply. Their team spares no efforts to achieve mutual success, whether it's by introducing new and exclusive appliances to our network or by suggesting new avenues to grow our business together," said Charles Valois, Vice-President, Merchandising – Home Décor & Appliances.
Waterline: Vendor of the Year – Lumber and Building Materials
"Always the first at the table to offer exciting off-shelf propositions for project-completers, value packs, and a unique product selection, Waterline has proven to be a true partner this past year. The company also stands out for its desire to collaborate, its agility, and its creativity," said Isabelle Laliberté, Vice-President, Merchandising – Lumber and Building Materials.
Some $360,000 raised by the Lowe's Canada Foundation
The Vendor Forum ended with a virtual fundraising campaign organized by the Lowe's Canada Foundation and benefitting Opération Enfant Soleil and Children's Miracle Network. Thanks to its vendor partners' generosity, the foundation was able to present a cheque of $360,000 to both organizations to help improve the quality of life for sick children and that of their families in Canada.
To share this news on social media, please use @Lowe's Canada (LinkedIn) and @LowesCanadaCorp (Twitter).
About Lowe's Canada
Lowe's Companies, Inc. (NYSE: LOW) is a FORTUNE® 50 home improvement company serving approximately 20 million customers a week in the United States and Canada. With fiscal year 2020 sales of nearly $90 billion, Lowe's and its related businesses operate or service more than 2,200 home improvement and hardware stores and employ over 300,000 associates. Based in Boucherville, Quebec, Lowe's Canadian business, together with its wholly owned subsidiary RONA inc., operates or services over 450 corporate and independent affiliate dealer stores in a number of complementary formats under different banners, which include Lowe's, RONA, Reno-Depot, and Dick's Lumber. In Canada, they have more than 26,000 associates, in addition to approximately 5,000 employees in the stores of independent affiliate dealers operating under the RONA banner. For more information, visit lowescanada.ca.