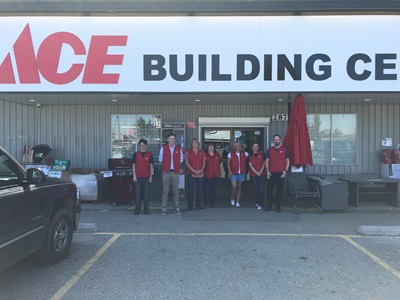 The Fraser Valley Building Supplies Store in Abbotsford Now Proudly Displays the Ace Banner
The conversion of the store to the Ace banner represents a local investment of approximately $100,000 and created four new jobs
Boucherville, QC – May 9, 2019 – The most celebrated "helpful place" is proud to announce the opening of a new Ace dealer location in Abbotsford, British Columbia. Operated by Fraser Valley Building Supplies since 2016, the store located at 28728 Fraser Highway features 10,000 sq. ft. of retail sales area as well as a 4-acre drive-through lumber yard to meet the home improvement needs of the local community. The conversion of the store to the Ace banner and the brand-new store layout translated into a local investment of approximately $100,000 and created four new jobs, bringing the total number of employees of the store to 28.
"With its unique product mix and its strong e-commerce offering, the Ace banner is helping us provide our customers with even more value and flexibility," explained Ray Cyr, President of Fraser Valley Building Supplies. "The conversion allowed us to greatly enhance our offering for retail customers who can now find somewhere between 500 and 1,000 new products in store, including exclusive tools and accessories from the iconic CRAFTSMAN® brand. And thanks to the ace-canada.ca platform, our customers now have access to thousands more at their fingertips. They can shop in the comfort of their home, at any time, and pick up their order in store when it's ready."
"We are thrilled to welcome this new store to the Ace Canada family," said Philippe Element, Vice-President, RONA & Ace Sales and Dealer Support. "Through their six stores in the Fraser Valley area and the Kootenays, Ray and his team at Fraser Valley Building Supplies have been providing their customers with a superior shopping experience for over 25 years. We are proud to work with them to help them grow their business and reach their goals."
To celebrate its grand re-opening, Ace Abbotsford is inviting the local population to a special event from Friday, May 10 to Sunday, May 12. In addition to the many deals to be found in store and daily giveaways, customers can enter a contest to win an Arctic King air conditioning unit.
About Ace Canada
For more than 90 years, Ace Hardware has been known as the helpful place in thousands of neighborhoods globally, providing customers with a more personal kind of helpful. With more than 5,000 hardware stores locally owned and operated around the globe, Ace is the largest retailer-owned hardware cooperative in the world. In Canada, RONA inc., a wholly owned Lowe's subsidiary, has the master license agreement for the Ace brand. Ace Canada is proud to be part of Lowe's Canadian businesses, which together operate or service more than 600 corporate and independent affiliate dealer stores in a number of complementary formats under different banners. For more information on Ace in Canada, visit www.acecanada.ca.
About Lowe's Canada
Lowe's Companies, Inc. (NYSE: LOW) is a FORTUNE® 50 home improvement company serving more than 18 million customers a week in the United States and Canada. With fiscal year 2018 sales of $71.3 billion, Lowe's and its related businesses operate or service more than 2,200 home improvement and hardware stores and employ approximately 300,000 associates. Based in Boucherville, Quebec, Lowe's Canadian business, together with its wholly owned subsidiary, RONA inc., operates or services more than 600 corporate and independent affiliate dealer stores in a number of complementary formats under different banners. These include Lowe's, RONA, Réno-Dépôt, Ace and Dick's Lumber. In Canada, the companies have more than 28,000 associates, in addition to approximately 5,000 employees in the stores of independent affiliate dealers operating under the RONA and Ace banners. For more information, visit lowescanada.ca.