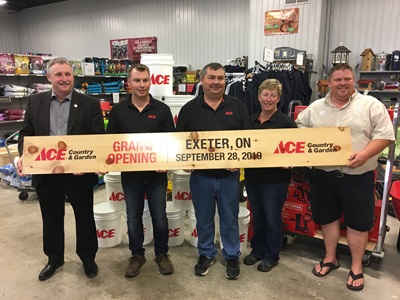 Grand opening of the family-owned Miller's Ace Country & Garden store in Exeter, Ontario
Local entrepreneurs Doug and Barry Eidt invested $25,000 to convert the store to the Ace banner

Today, the team celebrated the grand opening by presenting a $1,000 charity grant and hosting a board cutting ceremony in the presence of dignitaries and customers
Boucherville, QC – September 28, 2019 – The most celebrated "helpful place" joins local entrepreneurs Doug and Barry Eidt in celebrating the grand opening of Miller's Ace Country & Garden. Father and son acquired the business located at 137 Thames Road in Exeter, Ontario, earlier this spring and spent the last four months converting it to the Ace banner to enhance the store's offering. The Eidts invested $25,000 in the conversion process and created two new jobs to provide added service to their customers. Today, they celebrated the official grand opening of the store, alongside their team as well as local dignitaries and residents, with a board cutting ceremony.
"We are thrilled to welcome customers in our newly converted store and are eager for them to discover the products and services we added, which includes a wide selection of CRAFTSMAN® tools," said Barry Eidt. "And thanks to our new 'Click & Collect' service, we now provide even more flexibility and choices to local homeowners and professionals. They can now access thousands of products on www.ace-canada.ca and shop when and where it's most convenient for them. When their order is ready, they simply drop by the store to pick it up."
"It's always rewarding to see how our dealers bring to life the vision they have for their business," added Philippe Element, Vice-President, RONA & Ace Sales and Dealer Support. "With this second Ace store, Doug and Barry are bringing their customer-driven approach and outstanding service to even more customers in the Huron County region. We are proud to count them in our affiliated dealer family and look forward to keep working with them to help their business thrive."
The 5,000-sq.-ft. store offers 100 new items and features a completely redesigned layout to enhance customers' shopping experience. To mark the grand opening, Miller's Ace Country & Garden presented the 4H Club, a local non-profit youth development organization, with a cheque for $1,000 and organized a barbecue fundraiser benefiting the Club. The store also held a special two-day event in store where customers were invited to take advantage of deals and giveaways.
About Ace Canada
For more than 90 years, Ace Hardware has been known as the helpful place in thousands of neighborhoods globally, providing customers with a more personal kind of helpful. With more than 5,000 hardware stores locally owned and operated around the globe, Ace is the largest retailer-owned hardware cooperative in the world. In Canada, RONA inc., a wholly owned Lowe's subsidiary, has the master license agreement for the Ace brand. Ace Canada is proud to be part of Lowe's Canadian businesses, which together operate or service more than 600 corporate and independent affiliate dealer stores in a number of complementary formats under different banners. For more information on Ace in Canada, visit www.acecanada.ca.
About Lowe's Canada
Lowe's Companies, Inc. (NYSE: LOW) is a FORTUNE® 50 home improvement company serving more than 18 million customers a week in the United States and Canada. With fiscal year 2018 sales of $71.3 billion, Lowe's and its related businesses operate or service more than 2,200 home improvement and hardware stores and employ approximately 300,000 associates. Based in Boucherville, Quebec, Lowe's Canadian business, together with its wholly owned subsidiary, RONA inc., operates or services more than 600 corporate and independent affiliate dealer stores in a number of complementary formats under different banners. These include Lowe's, RONA, Réno-Dépôt, Ace and Dick's Lumber. In Canada, the companies have more than 28,000 associates, in addition to approximately 5,000 employees in the stores of independent affiliate dealers operating under the RONA and Ace banners. For more information, visit lowescanada.ca.