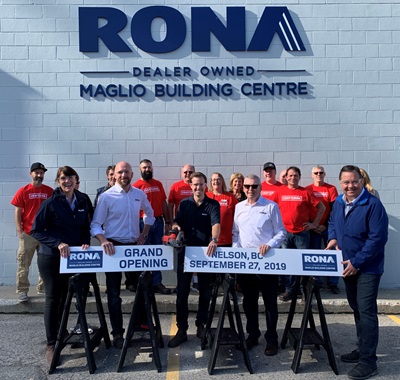 Fraser Valley Building Supplies celebrates the Grand Opening of its RONA stores in Trail and Nelson with the local community
Fraser Valley Building Supplies marked the occasion with traditional board-cutting ceremonies in the presence of customers and local dignitaries

The renovation work to convert the Trail and Nelson stores to the RONA banner represents a local investment of approximately $500,000
Boucherville, QC – September 27, 2019 – Lowe's Canada, one of Canada's leading home improvement retailers, joins Fraser Valley Building Supplies in celebrating the grand opening of their new RONA stores in the West Kootenays, British Columbia. The company acquired the Maglio Building Centres earlier this year and converted the stores located at 29 Government Road in Nelson, and 8274 Waneta Highway in Trail, to the RONA banner to bring even more value and choices to local customers. The conversion process represented a local investment of approximately $500,000. To mark the grand opening of both stores under the RONA banner, Fraser Valley Building Supplies held today traditional board cutting ceremonies in the presence of customers and local dignitaries.
"Our teams in Trail and Nelson worked tirelessly over the past seven months to help us complete the transition while continuing to provide our customers with the same great service," said Ray Cyr, President of Fraser Valley Building Supplies. "We are thrilled to celebrate today the grand opening of these two locations with local homeowners, contractors and dignitaries. We are looking forward to welcoming customers in their new RONA stores so they can discover our enhanced offering, which includes a selection of appliances and the iconic CRAFTSMAN® brand. And thanks to our new RONA financing programs, Kootenays consumers and industry professionals can now tackle large projects today and enjoy more flexibility with their payments."
"Working with Ray and the Fraser Valley Building Supplies team is always exciting. They have a clear vision of where they want to take their business and concentrate their efforts on growth strategies to bring their outstanding value proposition to even more customers in British Columbia," explained Philippe Element, Vice-President, RONA & Ace Sales and Dealer Support. "We are proud to see them celebrate the grand opening of their two latest locations and are eager to support them with future projects."
Together, the RONA Trail and RONA Nelson stores feature approximately 35,000 sq. ft. of retail sales area as well as 5 acres of lumberyard. They offer some 30,000 products in store and online to meet all the construction and home improvement needs of residents of the Kootenays. Until Sunday, September 29, customers are invited to come celebrate with the teams and take advantage of grand opening deals and giveaways at both locations, including a free $20 RONA gift card to the first 50 customers on Saturday, September 28 and a draw to win a 7-cu. ft. freezer.
About RONA
Created in 1939, RONA is a banner of Lowe's Canada, one of Canada's leading home improvement companies headquartered in Boucherville, Quebec. Spanning the entire country, its vast network of more than 400 stores includes both corporate stores and independent affiliated dealer stores. Known for its large in-store and online product selection as well as for its installation services, RONA also provides expert support and advice to its retail and pro customers for their building and renovation projects. For more information, visit rona.ca or follow us on Twitter, Facebook, and Instagram.
About Lowe's Canada
Lowe's Companies, Inc. (NYSE: LOW) is a FORTUNE® 50 home improvement company serving more than 18 million customers a week in the United States and Canada. With fiscal year 2018 sales of $71.3 billion, Lowe's and its related businesses operate or service more than 2,200 home improvement and hardware stores and employ approximately 300,000 associates. Based in Boucherville, Quebec, Lowe's Canadian business, together with its wholly owned subsidiary, RONA inc., operates or services more than 600 corporate and independent affiliate dealer stores in a number of complementary formats under different banners. These include Lowe's, RONA, Réno-Dépôt, Ace and Dick's Lumber. In Canada, the companies have more than 28,000 associates, in addition to approximately 5,000 employees in the stores of independent affiliate dealers operating under the RONA and Ace banners. For more information, visit lowescanada.ca.