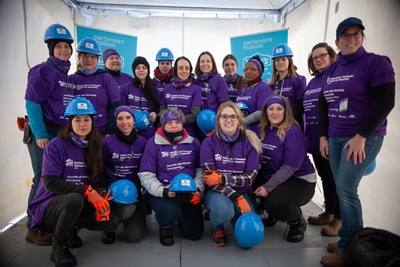 Habitat for Humanity Québec and Lowe's Canada unite women to build a home during inaugural International Women Build Day
In recognition of International Women's Day, Habitat for Humanity and Lowe's Canada raise awareness of the affordable housing needs facing women and children in the country
Habitat for Humanity Québec will build a new and affordable home in partnership with a local family in Montréal's Saint-Henri neighborhood. To kick off the project, the organization will hold a special build day on International Women's Day, March 8, with a team of 20 women from the Lowe's Canada network. This day aims to raise awareness of affordable housing issues facing women and their families. The event is part of a global initiative that will take place simultaneously in 18 communities in the United States, Canada and India as part of Habitat for Humanity and Lowe's Companies' International Women Build Day.
"Thanks to partnership agreements such as that concluded with Lowe's and Lowe's Canada, our growth is accelerating. Habitat Québec will be in a position to make the dream of homeownership come true for more low-income families by building more homes than ever before," says Ms. Madeleine Martins, Executive Director of Habitat for Humanity Québec.
For many people, the ability to own and afford a place to call home is an unattainable dream. In the Province of Québec, one in ten households must make a difficult choice between securing housing or paying for food, health care, childcare, education and reliable transportation. In Montréal, more than 182,000 households are in core housing need.
"As a leading home improvement retailer, Lowe's Canada strives to help Canadians turn their houses into homes. That given, partnering with Habitat for Humanity to help families gain access to home ownership and improve their quality of life is a natural fit for Lowe's Canada and our family of banners," said Jean-Sébastien Lamoureux, Senior Vice-President, Communications, Public Affairs and Compliance at Lowe's Canada. "We are thrilled to be teaming up with our colleagues from the Lowe's family outside of Canada to bring together women across our organization to celebrate International Women's Day by working on such a worthy project. Together, we will help improve the lives of 30 families across the United States, Canada and India through this special build day."
Habitat for Humanity and Lowe's have a shared belief that every woman, every man, and every child deserves a safe place to call home. In Canada, Lowe's Canada has been supporting Habitat for Humanity since opening the first Lowe's stores in 2007. Over the past decade, Lowe's Canada and its Lowe's, RONA and Reno-Depot banners have donated over $2 million in products to Habitat for Humanity Canada. Habitat Canada and 54 local Habitat organizations, including Habitat Québec, bring communities together to help families build strength, stability and independence through affordable homeownership across the country. Globally, Lowe's has donated over $65 million to Habitat for Humanity and helped more than 6,500 Habitat homeowners and their families to improve their homes and their futures.
To learn more, visit www.habitatqc.ca or follow #WomenBuild on social media to share and view stories about this unique build day.