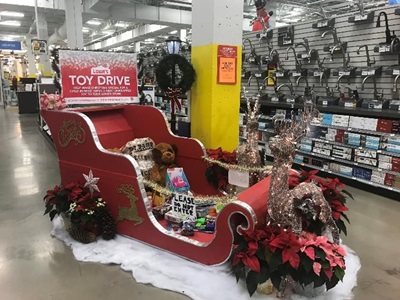 Kicking off Lowe's annual Holiday toy drive in partnership with the Salvation Army
The campaign will benefit underprivileged children across Canada
Boucherville, QC – November 19, 2018 – Lowe's Canada, one of Canada's leading home improvement companies, is proud to announce that starting today until December 16, Lowe's stores across the country will be collecting new, unopened toys for children of all ages in partnership with The Salvation Army. All collected toys will be given to thousands of underprivileged children through local chapters of The Salvation Army across multiple Canadian cities.
"Last year, we collected close to 6,500 toys across our 57 Lowe's stores. With 66 stores this year and with even more employees across our network, this year's toy drive will be bigger than ever. With that, we've set an even bigger target: to collect 7,000 toys," says Malcolm Parks, divisional vice-president of operations for Lowe's stores. "At Lowe's Canada, our shared purpose is to help people love where they live. This goes beyond our products and services offering. We're grateful to collaborate with The Salvation Army for a 7th year to fill this upcoming holiday season with joy by ensuring that thousands of underprivileged children have gifts at this special time of the year."
"The Salvation Army is truly thankful for partners such as Lowe's who enable us to provide life-saving programs and services to 1.7 million Canadians each year," says John McAlister, National Director of Communications for The Salvation Army.
Store employees, customers and citizens surrounding local Lowe's stores are encouraged to give generously to this campaign. To participate, supporters can drop off new toys in unopened packaging for children of all ages at their local Lowe's store.
About The Salvation Army
The Salvation Army is an international Christian organization that began its work in Canada in 1882 and has grown to become one of the largest direct providers of social services in the country. For over 135 years, The Salvation Army has given hope and support to vulnerable people in 400 communities across Canada and in 131 countries around the world. The Salvation Army offers practical assistance for children and families, often tending to the basic necessities of life, providing shelter for homeless people and rehabilitation for people who have lost control of their lives to an addiction. When you give to The Salvation Army, you are investing in the future of marginalized and overlooked people in your community.