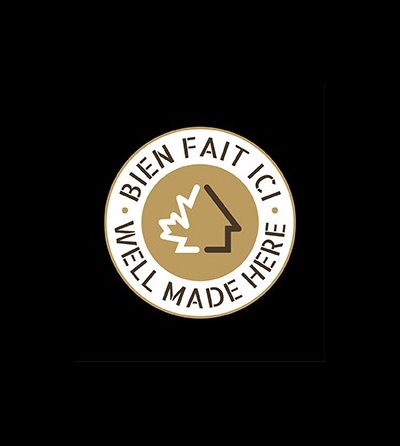 Competing hardware banners come together for the informative good of consumers and in support of products manufactured in Canada: a great industry first kicks off today
Longueuil, April 17, 2019 – Starting today, across Canada, do-it-yourselfers and contractors can find reliable infor­mation about the quality of hardware items and construction materials, manufactured at Canadian plants, thanks to the « Well Made Here » program.
The distribution of five million leaflets providing an overview of the new program begins today at cash registers in 2,404 affiliate and corporate points of sale belonging to ten competing banners: ACE, BMR, Castle, Home Hard­ware, Lowe's, Patrick Morin, Réno-Dépôt, RONA, TimberMart and Unimat.
The logo also appears in print and web flyers from each of the participating banners.
"We're unable to find any similar initiative, anywhere in Canada, where competitors have set aside their habitual rivalries for the common good. In this case, to provide reliable information to consumers, about quality products that are manufactured in one province or another," affirms Mr. Darveau, Chairperson of the new not-for-profit orga­nization, and President and Chief Executive Officer of AQMAT.
Motivation for the project
As with supermarkets and drugstores, hardware store customers are becoming more demanding. In particular, they want access to information about the origin of products, manufacturer conduct and, key components for the items they intend to install or place in the space they generally cherish the most; their home.
Product lines that can be accredited and thus bear the « Well Made Here » logo, must be able to demonstrate that 51%, or more, of their manufacturing costs, are incurred in Canada, excluding R&D, design and freight. They must also meet construction code rules and several other prevalent industry standards.
Manufacturers and trademark license holders must commit to transparency with respect to the information they publish on the shared www.ici-here.ca hub. Failing this, manufacturers can be expelled; an anonymous whis­tleblower line has been put in place to this effect (1-800-434-4373).
An emerging movement that's growing rapidly
Over 70 manufacturers signed up for the program in just a few weeks, many among them brand leaders in all departments; electrical, plumbing, building supplies, hardware, framing and roofing, flooring, windows and doors, paint and decoration, decks and yards, tools and seasonal goods
The first manufacturers to participate in the project are presently busy writing the descriptive texts, in both lan­guages and with appropriate images, to present their accredited product lines, thereby building up the ici-here.ca online catalogue. On day 1, nearly 400 product lines amounting to 4,000 SKUs are in the system.
« While no one knows exactly how many products are manufactured in Canada, nor how they rank with respect to public standards, management estimates that at maturity, in about two years, some 250 manufacturers will support the program and share information about over 1,500 lines representing nearly 15,000 products across all depart­ments.
To put this in context, a small neighbourhood hardware store has an inventory of about 12,000 items while a very large surface store might carry up to 65,000 SKUs.
About Well Made Here
Well Made Here / Bien fait ici is a not-for-profit organization under federal charter, belonging jointly to the banners and professional associations that created it on October 31, 2018. Its purpose is to encourage the pur­chase of quality hardware and construction materials that are made in Canada and intended for the residential market.
Source :
Célie Cournoyer, directrice des opérations
Bien fait ici / Well Made Here Oganization
400, rue Sainte-Hélène, bureau 3
Longueuil QC J4K 3R6
T.: 450 646-5842, poste/ext. 224 C. : 514 567-7242