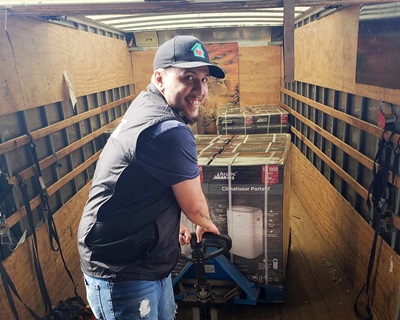 Lowe's Canada supports the City of Toronto with the donation of 300 portable air conditioners for vulnerable residents
Boucherville, QC – July 7, 2020 – Lowe's Canada, one of Canada's leading home improvement retailers operating or servicing more than 470 corporate and affiliated stores under different banners, is pleased to announce the donation of 300 portable air conditioners to the City of Toronto. This donation is in support of the City's efforts to encourage greater social distancing among homeless residents by offering them the opportunity to move from shelters that are in high demand to vacant Toronto Community Housing Corporation units. As summer has settled in, these air conditioners will help provide these residents with a more comfortable living environment as they go through self-isolation.
"Supporting our neighbours and communities has always been part of Lowe's Canada's DNA. This is why, when the City of Toronto contacted us with this request, we immediately accepted," said Tony Hurst, President of Lowe's Canada. "As a retailer, helping our customers achieve their home improvement projects so they can be comfortable at home is the essence of what we do. In these unprecedented times, it was only natural for us to do our part to help make the lives of people who are already going through challenging times more comfortable as well."
"On behalf of the City of Toronto, I'd like to thank Lowe's Canada for their generous donation. The 300 air conditioning units will ensure that some of our City's most vulnerable residents are able to keep cool in their homes and avoid negative health impacts associated with extreme heat," added Mayor John Tory.
The 300 portable air conditioners delivered to the City of Toronto represent a total donation of more than $160,000.
To share this news on social media, please use @Lowe's Canada (LinkedIn) and @LowesCanadaCorp (Twitter).
About Lowe's Canada
Lowe's Companies, Inc. (NYSE: LOW) is a FORTUNE® 50 home improvement company serving approximately 18 million customers a week in the United States and Canada. With fiscal year 2019 sales of $72.1 billion, Lowe's and its related businesses operate or service more than 2,200 home improvement and hardware stores and employ approximately 300,000 associates. Based in Boucherville, Quebec, Lowe's Canadian business, together with its wholly owned subsidiary, RONA inc., operates or services more than 470 corporate and independent affiliate dealer stores in a number of complementary formats under different banners. These include Lowe's, RONA, Réno-Dépôt and Dick's Lumber. In Canada, the companies have more than 26,000 associates, in addition to approximately 5,000 employees in the stores of independent affiliate dealers operating under the RONA banner. For more information, visit lowescanada.ca.