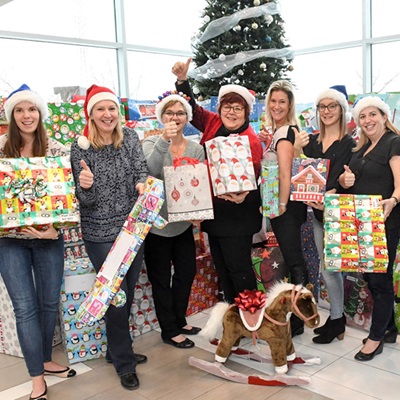 Lowe's Canada and Opération Père Noël team up to give presents to more than 1,000 children in need on the South Shore of Montéal
Boucherville, Québec, December 14, 2018 – Lowe's Canada employees were filled with pride as they welcomed Opération Père Noël elves to the company's head office in Boucherville this morning to give them a large stack of gifts for more than 1,000 underprivileged children, many of whom live on the South Shore of Montréal.
Always eagerly anticipated by the Lowe's Canada team, the Opération Père Noël campaign makes it possible each year to bring some Christmas magic to thousands of kids on the morning of December 25, as they find a gift from Santa Claus under the tree. "Every year, we receive thousands of letters from children who would have no gift to unwrap on Christmas morning without the generosity of the many people who commit to becoming their Santa, ," says Normand Brault, Co-founder of Opération Père Noël. "It's thanks to the support and involvement of partners like Lowe's Canada that we're able to bring a bit of joy to all these kids. Year after year, more and more of their employees are taking part in the campaign, and we are immensely grateful to have such a dedicated team to help us fulfil our mission."
Since last year, the Lowe's Canada team has become Opération Père Noël's leading corporate Santa Claus in terms of the number of children who receive gifts from the company's employees. "It's always moving to see the surge of commitment that Opération père Noël brings out in our employees. This initiative definitely contributes to our pride in being part of the Lowe's Canada family," says Claire Bara, Vice-President, Strategy, Business Intelligence and Consumer Insights, at Lowe's Canada, who has been involved with the Opération Père Noël campaign since 2016. "One of the values that guide our daily actions at Lowe's Canada is making a difference in somebody's day, every day. What could be better than making a difference in a child's life on Christmas Day? The most touching part of our collaboration with Opération Père Noël is the deeply personal, unique and moving concept behind the campaign: the children express their wish, a Santa Claus buys them the gift they asked for, wraps it and writes them a personal letter. It really brings out the magic of Christmas and fills both the children and our Santas with joy!" she adds.
This year, 472 employees at the Lowe's Canada head office answered the call by choosing to become Santa for one or more children. The gifts were placed carefully under the tall Christmas tree in the staff cafeteria at the Boucherville office and were collected this morning by Opération Père Noël volunteers, who will deliver them over the next few days.