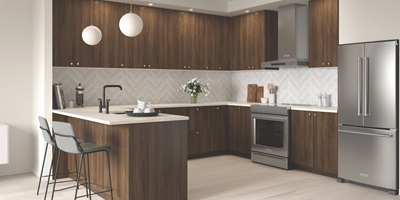 Lowe's Canada launches its collection of Eklipse cabinets, all made in Canada
In partnership with EBSU, Lowe's, RONA, and Réno-Dépôt stores offer this collection exclusively
Boucherville, QC – October 14, 2021 – Lowe's Canada, one of Canada's leading home improvement retailers operating or servicing over 450 corporate and affiliated stores under different banners, is exclusively launching the new Eklipse collection: high-quality pre-assembled Canadian cabinets that are easy to install and designed for different rooms in the house. The Eklipse cabinet collection, from Quebec-based manufacturer EBSU, will be offered progressively in corporate and affiliated Lowe's, RONA, and Réno-Dépôt stores across Canada. This initiative is a natural fit with the Well Made Here program, aimed at making it easier to identify Canadian-made products and supported by Lowe's Canada since its inception in 2018.
Cabinets for Every Need
The Eklipse collection is easy to install, as the cabinet boxes are already assembled. The cabinets include drawers, shelves, hinges, and legs. Since the legs are adjustable, all that remains is to level the pre-assembled boxes and install them. The boxes' doors and drawers are equipped with Richelieu's signature soft closing system. Thanks to the many available sizes, it is possible to create multiple designs to meet the particular needs of each room in the house, with the kitchen being the highlight of the Eklipse collection. It includes a selection of five finishes, with three more to be added in November. The modular sets are made from high-quality materials to meet the highest industry standards and offer a highly competitive price-quality ratio. All cabinets from the Eklipse collection are manufactured in Quebec and Ontario EBSU factories and are available pre-assembled.
A Very Useful Design Tool
To assist consumers with their building or renovation projects, the Eklipse design software can be used online at lowes.ca, rona.ca, and renodepot.com. Simply select a room, specify the dimensions, find some inspiration, evaluate the design options available, customize everything, add your selected cabinets to the shopping cart, pay online, and schedule a pickup time. It is also possible to use the installation services at Lowe's, RONA, or Réno-Dépôt for a turnkey service.
"We are delighted to expand our selection of cabinets and to offer the new Eklipse collection exclusively in our three banners—Lowe's, RONA, and Réno-Dépôt," said Charles Valois, Vice-President, Merchandising at Lowe's Canada. "Pre-assembled products are certainly popular among consumers. So, this is a very promising niche, and we can already feel the buzz around it, both online and in stores. We are always proud to support local suppliers who stand out for the unrivalled quality of their products."
"Customers of Lowe's, RONA, and Réno-Dépôt stores will now have the opportunity to realize a project quickly thanks to the Eklipse collection pre-assembled boxes. "Available in eight finishes, this selection will suit all tastes!" says Napoléon Boucher, President at EBSU. "It is a great source of pride for our employees to know that our products could be in the homes of customers across Canada."
To share this news on social media, please use @Lowe's Canada (LinkedIn) and @LowesCanadaCorp (Twitter).
About Lowe's Canada
Lowe's Companies, Inc. (NYSE: LOW) is a FORTUNE® 50 home improvement company serving approximately 20 million customers a week in the United States and Canada. With fiscal year 2020 sales of nearly $90 billion, Lowe's and its related businesses operate or service more than 2,200 home improvement and hardware stores and employ over 300,000 associates. Based in Boucherville, Quebec, Lowe's Canadian business, together with its wholly owned subsidiary RONA inc., operates or services over 450 corporate and independent affiliate dealer stores in a number of complementary formats under different banners, which include Lowe's, RONA, Reno-Depot, and Dick's Lumber. In Canada, they have more than 26,000 associates, in addition to approximately 5,000 employees in the stores of independent affiliate dealers operating under the RONA banner. For more information, visit lowescanada.ca.
About EBSU
EBSU is a company that was founded in 1981. The manufacturing company is specialized in the production of cabinets for the home. The company has two plants in St-Louis-de-Gonzague as well as a plant in Salaberry-de-Valleyfield, in Montérégie, Quebec, which started its operations in March 2021. The latter is state-of-the-art and includes an automated polymer door production line.
In July 2021, the EBSU Group acquired Woodlore International, a manufacturing company located in Brampton, Ontario. This brings the number of employees in both companies to 600.