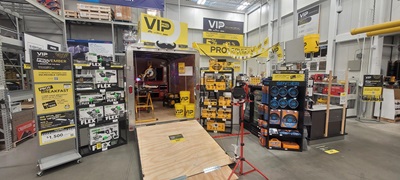 Lowe's Canada Launches Provember in Most of Its Lowe's, RONA and Réno-Dépôt Stores in Canada
November dedicated to construction, commercial and home improvement professionals


Boucherville, QC, October 31, 2022 – Lowe's Canada, one of Canada's leading home improvement retailers operating or servicing close to 450 corporate and affiliated stores under different banners, is launching PROvember in most of its Lowe's, RONA, and Réno-Dépôt stores across the country until November 23, 2022. PROvember, an event directly linked to the VIPpro program, includes a vendor tour, in-store breakfast meetings, exclusive offers and rewards, several contests, as well as a partnership with the Movember Canada organization.
"The VIPpro program is constantly evolving with initiatives aimed at improving our service offering and the shopping experience for construction, commercial and home improvement professionals, as well as small business owners. PROvember is back for a second year with an improved version, including a vendor tour. It's a unique opportunity for Pros to interact with key vendors and with each other," said Jeff Oben, Senior Director, Pro Stores at Lowe's Canada.
As part of the vendor tour, Stelpro, Bosch, PPG (SICO), Chervon, Lutron, Metrie, Southwire, Stanley B&D, Metabo, Spyder, and many other vendors will showcase their products and the latest trends. In total, 24 big box stores across the country will receive these vendors. All participating stores in the network will offer breakfast to their Pro customers on November 1 and 15.
Receiving and giving
During PROvember, Lowe's Canada is adding several offers and discounts to the many benefits and privileges already in effect as part of the VIPpro program. Pros will also get the opportunity to make a donation at checkout to support Movember Canada, a leading philanthropic organization dedicated to changing the face of men's health worldwide, focusing on mental health and suicide prevention, prostate cancer, and testicular cancer.
To participate in PROvember, simply register for the VIPpro program by clicking here.
To share this news on social media, please use @Lowe's Canada (LinkedIn), @LowesCanadaCorp (Twitter), or @LowesCanadaCorp (Facebook).
About Movember
Movember is the leading charity changing the face of men's health on a global scale, focusing on mental health and suicide prevention, prostate cancer and testicular cancer. The charity raises funds to deliver innovative, breakthrough research and support programs that enable men to live happier, healthier and longer lives. Committed to disrupting the status quo, millions have joined the movement, helping fund over 1,250 projects around the world. In addition to tackling key health issues faced by men, Movember is working to encourage men to stay healthy in all areas of their life, with a focus on men staying socially connected, and becoming more open to discussing their health and significant moments in their lives. The charity's vision is to have an everlasting impact on the face of men's health. To donate or learn more, please visit Movember.com.
About Lowe's Canada
Lowe's Companies, Inc. (NYSE: LOW) is a FORTUNE® 50 home improvement company serving approximately 19 million customers a week in the United States and Canada. With fiscal year 2021 sales of US $96 billion, Lowe's and its related businesses operate or service more than 2,200 home improvement and hardware stores and employ approximately 300,000 associates. Based in Boucherville, Québec, Lowe's Canadian business, together with its wholly owned subsidiary RONA inc., operates or services close to 450 corporate and independent affiliate dealer stores in a number of complementary formats under different banners, which include Lowe's, RONA, Réno-Depôt, and Dick's Lumber. In Canada, they have more than 26,000 associates, in addition to approximately 5,000 employees in the stores of independent affiliate dealers operating under the RONA banner. For more information, visit lowescanada.ca.