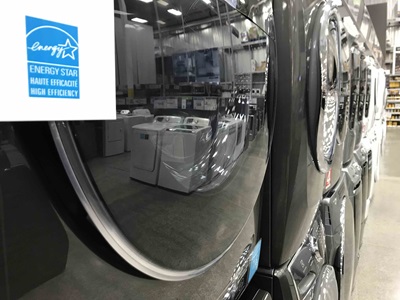 Lowe's Canada named 2022 ENERGY STAR Retailer of the Year-National
Boucherville, QC – June 7, 2022 – Lowe's Canada, one of Canada's leading home improvement retailers operating or servicing some 450 corporate and affiliated stores under different banners, is proud to receive the 2022 ENERGY STAR Canada Retailer of the Year-National Award, which recognizes its commitment to offering and promoting the most energy-efficient products and technologies for its customers. This is the third ENERGY STAR Canada award won by Lowe's Canada.
"At Lowe's Canada, responsible business and environmentally conscious practices are key priorities. We are honoured to accept this recognition, which celebrates the excellent work of our Merchandising and Sustainable Development teams," said Mélanie Lussier, Director, External Communications and Sustainable Development at Lowe's Canada. "Year after year, our associates go above and beyond to increase our ECO product offering, including ENERGY STAR products, to help as many Canadians as possible reduce their environmental footprint."
"Enhancing energy efficiency is key to working towards our ambitious climate goals, while creating sustainable jobs for cleaner growth and a greener, more energy-efficient future. This year's ENERGY STAR Canada award recipients are ambassadors of energy efficiency and examples of the value of investing in smart energy choices." said the Honourable Jonathan Wilkinson, Minister of Natural Resources. "Congratulations to Lowe's Canada in Boucherville, Quebec as the recipient of the 2022 ENERGY STAR Canada Award for Retailer of the Year – National."
Here are some of the highlights that contributed to Lowe's Canada being named ENERGY STAR Retailer of the Year-National in Canada:
Sales covering over 2.8 million ENERGY STAR certified products.

Training of more than 4,800 store associates on eco-friendly products, including the benefits of ENERGY STAR certification.

Participation in the Canada Greener Homes Grant, offering grants on ENERGY STAR certified products.

Promotion of ENERGY STAR certified products in stores, in flyers, online, and through social media posts to encourage consumers to reduce their energy consumption.
Sustainability, a priority for Lowe's Canada
As part of its three-pillar sustainability strategy—help customers reduce their environmental footprint, support its associates and communities, and reduce the environmental impact of its operations—Lowe's Canada has implemented a number of initiatives over the past few years, including: a major project to improve the energy efficiency of its facilities, the phasing out of single-use plastic shopping bags in stores starting at the end of June, and the development of tracking tools to ensure that its ambitious recycling targets are met. In 2022, the organization's environmental efforts and results were recognized nationally, as well as in Québec. The company was named one of Canada's Greenest Employers for a second consecutive year and received a 10th Leader in Sustainability Award by Call2Recycle, as well as the Stratégie de développement durable Desjardins Mercure Award at Les Mercuriades 2022 Gala.
Visit https://www.lowescanada.ca/en/corporate-responsibility to find out more about Lowe's Canada's sustainability efforts. To share this news on social media, use @LowesCanadaCorp (Facebook), @Lowe's Canada (LinkedIn), and @LowesCanadaCorp (Twitter).
About Lowe's Canada
Lowe's Companies, Inc. (NYSE: LOW) is a FORTUNE® 50 home improvement company serving approximately 19 million customer transactions a week in the United States and Canada. With fiscal year 2021 sales of over $96 billion, Lowe's and its related businesses operate or service nearly 2,200 home improvement and hardware stores and employ over 300,000 associates. Based in Boucherville, Quebec, Lowe's Canadian business, together with its wholly owned subsidiary RONA inc., operates or services some 450 corporate and independent affiliate dealer stores in a number of complementary formats under different banners, which include Lowe's, RONA, Reno-Depot, and Dick's Lumber. In Canada, they have more than 26,000 associates, in addition to approximately 5,000 employees in the stores of independent affiliate dealers operating under the RONA banner. For more information, visit lowescanada.ca.