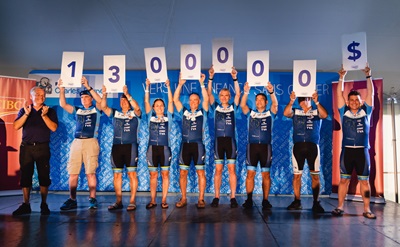 Lowe's Canada presents a total of $1.3 million to the Charles-Bruneau Foundation
For its second year as a Diamond Partner of the Tour CIBC Charles-Bruneau, Lowe's Canada brings together a team of some 120 cyclists
Boucherville, QC – July 5, 2019 – Lowe's Canada, one of Canada's leading home improvement retailers, is proud to have presented $1.3 million today to the Charles-Bruneau Foundation in support of pediatric cancer research. The atmosphere was vibrant and festive at the 24th Tour CIBC Charles-Bruneau finish line in Boucherville as the total amount presented as part of the company's second fundraising campaign as a Diamond Partner was revealed.
"At Lowe's Canada, our commitment to serving our communities goes well beyond our retail operations. We are committed to taking concrete actions to have a positive impact on the communities we serve," said Sylvain Prud'homme, President of Lowe's Canada. "That is why we are proud to continue supporting the Charles-Bruneau Foundation, an organization that makes a difference in the lives of thousands of youths living with cancer and their families."
Several initiatives were carried out for this second campaign. Among other things, Lowe's Canada had a team of about 120 cyclists⁠ made up of employees, affiliated dealers and vendor partners who took part in various Tour CIBC Charles-Bruneau treks. Together, they biked over 13,000 km to support the cause. In addition, from June 1 to July 5, participating RONA, Reno-Depot, and Ace corporate and affiliated dealer stores in Quebec led a fundraising campaign at checkout counters. Employees also held various activities to involve customers in the campaign.
"The cause championed by the Charles-Bruneau Foundation is one that is very dear to us at Lowe's Canada. I am moved to see our people come together to help offer children the hope of a cancer-free childhood," added Prud'homme. "I would like to thank the Lowe's Canada team of cyclists and our store employees who outdid themselves once again this year to raise as many donations as possible. I would also like to thank our customers, vendors, and the friends and family of our cyclists for their great generosity. These individuals answered our call and made this second campaign a huge success."
"We are thrilled to be able to count on the support of a major partner like Lowe's Canada to help us advance pediatric cancer research and treatment," declared Pierre Bruneau, spokesperson of the Charles-Bruneau Foundation. "Once again this year, the Lowe's Canada team went above and beyond throughout the fundraising campaign. Over the past five weeks, we have witnessed wonderful initiatives taken by the organization's employees, who rallied together for the cause, in order to help us offer the best care to thousands of children affected by cancer in Quebec."
About the Charles-Bruneau Foundation
The Charles-Bruneau Foundation is proud to be the largest funder of pediatric hematology oncology research in Quebec. The latest commitments announced are necessary to allow major breakthroughs in research. By 2022, $22 million will be invested in the Unité de recherche en hémato-oncologie pédiatrique Charles-Bruneau at CHU Sainte-Justine and $4 million will also be donated to the Montreal Children's Hospital. Two objectives will serve to guide researchers: finding a cure for the 20% of children whose cancer is resistant to treatment, and improving the quality of life of children in remission so that they can enjoy a true recovery. While these commitments are ambitious, the Foundation is confident that it can count on its loyal partners and the people.
Over the past 29 years, the sum of $15 million has been invested in research, and an additional $40 million has gone toward the construction, procurement and development of a Cancer Centre, a research center and three Charles-Bruneau units in Québec.
About Lowe's Canada
Lowe's Companies, Inc. (NYSE: LOW) is a FORTUNE® 50 home improvement company serving more than 18 million customers a week in the United States and Canada. With fiscal year 2018 sales of $71.3 billion, Lowe's and its related businesses operate or service more than 2,200 home improvement and hardware stores and employ approximately 300,000 associates. Based in Boucherville, Quebec, Lowe's Canadian business, together with its wholly owned subsidiary, RONA inc., operates or services more than 600 corporate and independent affiliate dealer stores in a number of complementary formats under different banners. These include Lowe's, RONA, Réno-Dépôt, Ace and Dick's Lumber. In Canada, the companies have more than 28,000 associates, in addition to approximately 5,000 employees in the stores of independent affiliate dealers operating under the RONA and Ace banners. For more information, visit lowescanada.ca.