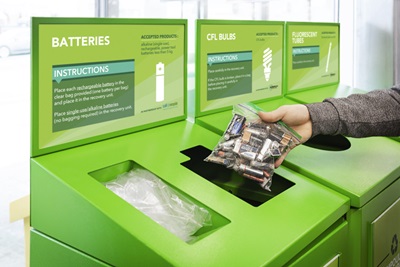 Lowe's Canada receives a ninth Leader in Sustainability award
Boucherville QC – March 1, 2021 – Lowe's Canada, one of Canada's leading home improvement retailers operating or servicing some 470 corporate and affiliated stores under different banners, was named 2020 Leader in Sustainability by Call2Recycle Canada, Inc. This award recognizes outstanding commitment in battery recycling. Thanks to its Product recovery program and its partnership with Call2Recycle, the Lowe's Canada network diverted over 98,000 kg of household batteries away from landfills in 2020, making it one of the organization's highest performing partners.
"The year 2020 certainly brought its share of challenges, but in no way weakened our desire to reduce the environmental impact of our operations. The quantity of batteries collected in our network shows the ongoing concern of our customers for the safe disposal of certain hazardous products, as well as the importance of maintaining and facilitating access to take-back programs, despite the current context," said Jean-Sébastien Lamoureux, Senior Vice-President, Public Affairs, Asset Protection and Sustainable Development at Lowe's Canada. "We are proud to see the efforts of our teams rewarded once again this year."
Lowe's Canada earned its ninth Leader in Sustainability Award from Call2Recycle, making it a part of a select group of major retailers, warehouses, municipalities, and companies that set a standard for organizational leadership in this area.
"Each year, Canadians recycle more and more of their used batteries with Call2Recycle thanks to the exceptional partnership of organizations like Lowe's Canada. Its commitment to sustainability and diverting batteries from the waste stream for reuse in new products is making a real difference," said Joe Zenobio, President of Call2Recycle Canada, Inc. "With Lowe's Canada's support, we have been able to achieve record collection targets year after year, helping to protect wildlife, the environment and our communities by keeping toxic metals out of landfills."
The strength of a Canada-wide network towards a greener future
The extensive network of corporate and affiliated Lowe's, RONA, and Reno-Depot stores across Canada helps multiply the benefits of corporate initiatives to build a stronger tomorrow for future generations. The organization can visibly reduce the impact of its activities on the environment by implementing concrete, large-scale measures such as the battery recycling program. This way, in addition to the 98,000 kg of batteries, the organization was able to recycle some 2,200,000 kg of paint and 77,600 kg of CFL bulbs and fluorescent tubes in 2020.
To learn more about the organization's three-pronged commitment to sustainable development, or to see the 2019 Corporate Responsibility Highlights, visit https://www.lowescanada.ca/en/corporate-responsibility. To share this news on social media, please use @Lowe's Canada (LinkedIn) and @LowesCanadaCorp (Twitter).
About Call2Recycle Canada, Inc.
Call2Recycle Canada, Inc., is a not-for-profit organization that operates Canada's first and largest battery collection and recycling program, called Call2Recycle®. Call2Recycle has a network of 9,000 collection locations across the country and is committed to protecting and preserving the environment by keeping consumer batteries out of landfills. Since launching in Canada in 1997, Call2Recycle has safely and responsibly collected and recycled 26 million kilograms of batteries. It is the provincially-approved consumer battery collection and recycling program for British Columbia, Saskatchewan, Manitoba, Quebec and Prince Edward Island and operates as a registered Producer Responsibility Organization (PRO) in Ontario according to the Ontario Batteries Regulation. Call2Recycle accepts household batteries (weighing up to 5 kg) for recycling and eMobility batteries used to power eBikes, eScooters, eHoverboards and eSkateboards.
About Lowe's Canada
Lowe's Companies, Inc. (NYSE: LOW) is a FORTUNE® 50 home improvement company serving approximately 20 million customers a week in the United States and Canada. With fiscal year 2020 sales of nearly $90 billion, Lowe's and its related businesses operate or service more than 2,200 home improvement and hardware stores and employ over 300,000 associates. Based in Boucherville, Quebec, Lowe's Canadian business, together with its wholly owned subsidiary RONA inc., operates or services some 470 corporate and independent affiliate dealer stores in a number of complementary formats under different banners, which include Lowe's, RONA, Reno-Depot, and Dick's Lumber. In Canada, they have more than 26,000 associates, in addition to approximately 5,000 employees in the stores of independent affiliate dealers operating under the RONA banner. For more information, visit lowescanada.ca.