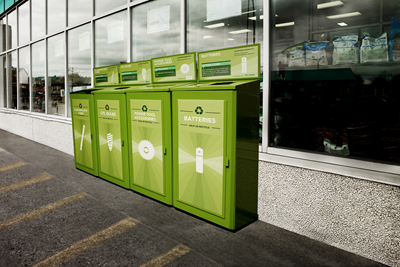 Lowe's Canada receives Leader in Sustainability Award from Call2Recycle Canada
Call2Recycle recognizes the exceptional commitment of RONA, Reno-Depot and Lowe's stores across Canada to battery recycling in 2018
Boucherville, QC – May 2, 2019 – Lowe's Canada, one of Canada's leading home improvement companies, was recently named a 2018 Leader in Sustainability by Call2Recycle Canada, Canada's national consumer battery collection and recycling program. The annual Leader in Sustainability Awards recognize organizations for their environmental commitment and collection of the highest volume of used batteries in 2018 through Call2Recycle. Lowe's Canada's corporate and affiliated dealer network across Canada collected over 100,000 kilograms of batteries, thereby contributing to the diversion of 2.7 million kg of batteries from Canadian landfills through the Call2Recycle program last year.
"Lowe's Canada's family of banners has collected 755,000 kg of batteries since 2001, and this is our 7th year receiving Call2Recycle's Leader in Sustainability Award. These achievements prove that every effort, big or small, can help build a more sustainable future," said Jean-Sébastien Lamoureux, Senior Vice-President, Communications, Public Affairs and Compliance at Lowe's Canada. "Reducing the impact of our operations on the environment is an important way in which we wish to exercise our leadership and have a positive effect on the communities we serve. That given, we proudly accept this award on behalf of all our employees and customers who support battery collection and similar efforts across Canada."
"Lowe's Canada's active participation in the Call2Recycle used battery collection program is a great example of their commitment and work to encourage and promote sustainability," said Joe Zenobio, President of Call2Recycle Canada, Inc. "We're proud to recognize Lowe's Canada as a leader in sustainability and congratulate them for their battery recycling contributions."
Sustainability efforts across the Lowe's Canada network
In addition to recovering batteries, RONA, Reno-Depot and Lowe's stores also make recovery programs for fluorescent light bulbs and paint available to customers. In 2017 and 2018, Lowe's Canada was the retailer recovering the largest quantity of paint in Canada. In 2018 alone, 3,061 tons of paint were recycled throughout its network. At a corporate level, Lowe's Canada also recycles wood, building materials, plastics, cardboard, as well as drywall, Styrofoam and other waste resulting from its operations. It is also putting in place and enhancing energy efficiency and waste management programs to further reduce its environmental footprint.
For more information about these initiatives, please visit www.lowescanada.ca/en/corporate-responsibility
About Lowe's Canada
Lowe's Companies, Inc. (NYSE: LOW) is a FORTUNE® 50 home improvement company serving more than 18 million customers a week in the United States and Canada. With fiscal year 2018 sales of $71.3 billion, Lowe's and its related businesses operate or service more than 2,200 home improvement and hardware stores and employ approximately 300,000 associates. Based in Boucherville, Quebec, Lowe's Canadian business, together with its wholly owned subsidiary, RONA inc., operates or services more than 600 corporate and independent affiliate dealer stores in a number of complementary formats under different banners. These include Lowe's, RONA, Réno-Dépôt, Ace and Dick's Lumber. In Canada, the companies have more than 28,000 associates, in addition to approximately 5,000 employees in the stores of independent affiliate dealers operating under the RONA and Ace banners. For more information, visit lowescanada.ca.