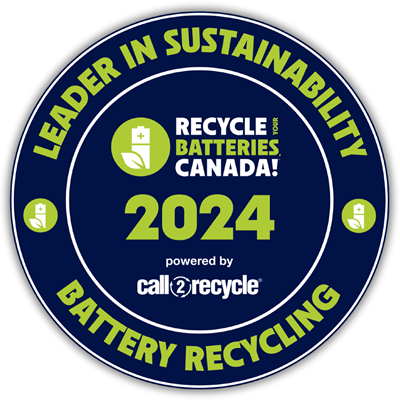 Lowe's Canada receives an eighth Leader in Sustainability award from Call2Recycle in recognition of its commitment to battery recycling
Boucherville, QC – June 15, 2020 – Lowe's Canada, one of Canada's leading home improvement retailers operating or servicing more than 470 corporate and affiliated stores under different banners, recently received an eighth Leader in Sustainability award from Call2Recycle in recognition of its exceptional commitment to battery recycling. With this award, the national collection and recycling program for household batteries recognizes the contributions of partners that play a key role in diverting these products from landfills. In 2019 alone, 116,000 kg of batteries were recovered thanks to the recovery units installed in Lowe's, RONA, and Reno-Depot corporate and affiliated stores across the country, making the Lowe's Canada network one of the program's highest-performing partners.
"We are pleased to offer our customers a place where they can easily and safely dispose of their used batteries," said Jean-Sébastien Lamoureux, Senior Vice-President, Public Affairs, Asset Protection and Sustainable Development at Lowe's Canada. "Our battery recycling program is part of a larger plan aimed at reducing the environmental impact of our operations. As a large company, we firmly believe it is our responsibility to do the right thing to protect the natural heritage of future generations and we plan on continuing to launch meaningful programs and initiatives to this end."
"Since 2001, the Lowe's Canada network has contributed to the diversion of over 865,000 kg of batteries from landfills," explained Joe Zenobio, President of Call2Recycle. "We are grateful to count on the support of this major partner that allows us, year after year, to hit new collection target records and, consequently, contribute to the protection of wildlife, the environment, and our communities."
Major sustainable development programs
In addition to the recovery of batteries, Lowe's Canada has rolled out a number of programs aimed at recovering products that would pose a danger to the environment if they were to end up in landfills at the end of their useful life. In 2019, the organization recovered around 2,720,000 kg of paint and 96,000 kg of CFL bulbs and fluorescent tubes. Added to this are recovery and recycling measures for various types of residual materials such as cardboard, paper, plastic, wood, and metal.
To reduce the impact of its activities on the environment, Lowe's Canada also set a target to reduce its greenhouse gas emissions to 40% below its 2016 levels by 2030. To achieve this, the organization announced earlier this year an investment of over $24,000,000 to carry out initiatives to improve the energy efficiency of its corporate stores and distribution centres across the country.
To share this news on social media, please use @Lowe's Canada (LinkedIn) and @LowesCanadaCorp (Twitter).
About Call2Recycle Canada, Inc.
Since its inception, Call2Recycle Canada has diverted over 19 million kilograms of batteries from Canadian landfills and continues to divert 100 per cent of the batteries it collects. With more than 8,800 participating collection locations established across Canada, including at retail, municipalities, businesses, schools/universities, and government buildings, Call2Recycle Canada continues its pursuit to ensure responsible battery recycling is accessible for all.
About Lowe's Canada
Lowe's Companies, Inc. (NYSE: LOW) is a FORTUNE® 50 home improvement company serving approximately 18 million customers a week in the United States and Canada. With fiscal year 2019 sales of $72.1 billion, Lowe's and its related businesses operate or service more than 2,200 home improvement and hardware stores and employ approximately 300,000 associates. Based in Boucherville, Quebec, Lowe's Canadian business, together with its wholly owned subsidiary, RONA inc., operates or services more than 470 corporate and independent affiliate dealer stores in a number of complementary formats under different banners. These include Lowe's, RONA, Réno-Dépôt and Dick's Lumber. In Canada, the companies have more than 26,000 associates, in addition to approximately 5,000 employees in the stores of independent affiliate dealers operating under the RONA banner. For more information, visit lowescanada.ca.