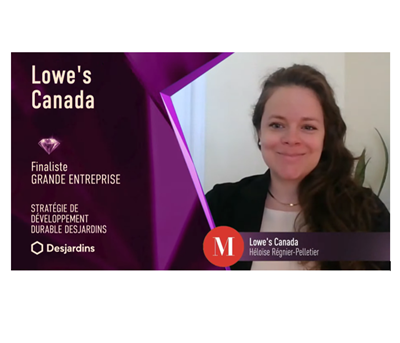 Lowe's Canada recognized for its sustainability efforts
Lowe's Canada is a finalist in the Mercuriades 2022 awards in the Stratégie de développement durable Desjardins category
Boucherville, QC – March 25, 2022 – Lowe's Canada, one of Canada's leading home improvement retailers operating or servicing some 450 corporate and affiliated stores under different banners, is proud to be a finalist in the prestigious Les Mercuriades 2022 business awards. During a virtual ceremony held earlier today, the company officially accepted its finalist trophy in the Stratégie de développement durable Desjardins category.
"Doing the right thing for the environment and our communities is something we take very much to heart at Lowe's Canada. This desire to be a responsible corporate citizen resonates strongly with our associates, who support and carry out our various sustainability initiatives with passion and conviction," said Mélanie Lussier, Director, External Communications and Sustainable Development at Lowe's Canada. "For our company to be a finalist in Quebec's most prestigious business awards for its commitment to sustainable development confirms the importance of the efforts we make every year to improve the organization's environmental track record and celebrates our teams' exceptional work."
This nomination underscores the results of Lowe's Canada's energy efficiency strategy, deployed since 2018. Representing a total investment of nearly $30 million, this initiative helped the company reduce its greenhouse gas (GHG) emissions by 6,023 tonnes of CO2 equivalents, which is the same as taking more than 1,500 cars off the road. By 2025, Lowe's Canada aims to have reduced its GHG emissions by 40% from its 2016 levels. The company wants to further reduce its emissions to 60% by 2030.
Lowe's Canada is one of Canada's Greenest Employers
In April 2021, Lowe's Canada was recognized for its sustainability efforts and achievements as part of Mediacorp's Canada's Greenest Employers annual competition, which celebrates employers who have developed exceptional sustainability initiatives and led by example by creating a culture of environmental awareness within their organizations. Those interested in becoming part of the Lowe's Canada family—and, by the same token, working for a sustainable employer—can visit https://jobs.lowescanada.ca/ to learn more about the positions available and to apply.
Find out more about Lowe's Canada's sustainability journey at lowescanada.ca/en/corporate-responsibility. To share this news on social media, use @LowesCanadaCorp (Facebook), @Lowe's Canada (LinkedIn), and @LowesCanadaCorp (Twitter).
About Lowe's Canada
Lowe's Companies, Inc. (NYSE: LOW) is a FORTUNE® 50 home improvement company serving approximately 19 million customer transactions a week in the United States and Canada. With fiscal year 2021 sales of over $96 billion, Lowe's and its related businesses operate or service nearly 2,200 home improvement and hardware stores and employ over 300,000 associates. Based in Boucherville, Quebec, Lowe's Canadian business, together with its wholly owned subsidiary RONA inc., operates or services some 450 corporate and independent affiliate dealer stores in a number of complementary formats under different banners, which include Lowe's, RONA, Reno-Depot, and Dick's Lumber. In Canada, they have more than 26,000 associates, in addition to approximately 5,000 employees in the stores of independent affiliate dealers operating under the RONA banner. For more information, visit lowescanada.ca.