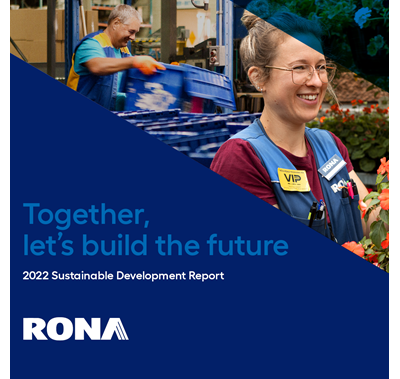 Making sustainability a priority: Solid results for Lowe's Canada
The company unveils its 2021 sustainability highlights
Boucherville, (Qc) July 6, 2022 – Following the release of the Lowe's Companies, Inc. 2021 Corporate Responsibility report, Lowe's Canada published today the Canadian highlights to reveal the company's major sustainability achievements in Canada. This annual exercise allows the organization to take stock of its sustainability approach and to measure the effectiveness of the actions taken to achieve its many goals.
"At Lowe's Canada, we view sustainability as a journey of continuous improvement. There's no finish line. We want and can always do better. The Canadian highlights give us the opportunity each year to look back on our successes and progress, while reflecting on new measures that can be put in place to achieve the ambitious goals we have set for ourselves as an organization," explains Mélanie Lussier, Director, External Communications and Sustainable Development.
These goals include reducing greenhouse gas (GHG) emissions to 40% by 2025 (compared to 2016 levels) and recycling 75% of waste across all corporate facilities by 2025. To do so, the company is putting into place various measures, including an incentive program to help stores reach their recycling targets. In addition, Lowe's Canada has a vast project to improve the energy efficiency of its buildings, which represents an investment of some $30 million—a project that was awarded the Stratégie de développement durable Desjardins Mercure award at Les Mercuriades 2022 Gala.
Tangible results for Lowe's Canada
Thanks to the collective efforts of its associates and significant investments, Lowe's Canada unveiled today compelling results for 2021, including:
Recycling nearly 23,000 tons of waste, which puts the company more than halfway towards its 2025 target;

Reducing GHG emissions by more than 10 tons compared to 2016, which can be compared to removing more than 2,000 vehicles from the road;

Presenting $4 million to 320 organizations in 2021, for a total of $20 million since 2016.
In fact, this past year, Lowe's Canada's 2021 sustainability achievements have earned the organization numerous awards:
The Stratégie de développement durable Desjardins Mercure award

The 2021 Canadian Corporate Partner of the Year title by Children's Miracle Network

A place among Canada's Greenest Employers as part of the Canada's Top 100 Employers competition

The 2021 Leader in Sustainability award by Call2Recycle

The 2022 ENERGY STAR Canada Retailer of the Year-National award
"What's particularly exciting right now is that we're at a point in our journey where we're seeing tangible progress on many levels and we are noticing that a true culture of sustainability has developed among our teams since we launched our strategy in 2018. Sustainability is an everyday priority for all of our associates; it doesn't just rest on a small team's shoulders," adds Ms. Lussier.
Find out more about Lowe's Canada's sustainability journey at lowescanada.ca/en/corporate-responsibility. To share this news on social media, use @LowesCanadaCorp (Facebook), @Lowe's Canada (LinkedIn), and @LowesCanadaCorp (Twitter).
About Lowe's Canada
Lowe's Companies, Inc. (NYSE: LOW) is a FORTUNE® 50 home improvement company serving approximately 19 million customer transactions a week in the United States and Canada. With fiscal year 2021 sales of over $96 billion, Lowe's and its related businesses operate or service nearly 2,200 home improvement and hardware stores and employ over 300,000 associates. Based in Boucherville, Quebec, Lowe's Canadian business, together with its wholly owned subsidiary RONA inc., operates or services some 450 corporate and independent affiliate dealer stores in a number of complementary formats under different banners, which include Lowe's, RONA, Reno-Depot, and Dick's Lumber. In Canada, they have more than 26,000 associates, in addition to approximately 5,000 employees in the stores of independent affiliate dealers operating under the RONA banner. For more information, visit lowescanada.ca.