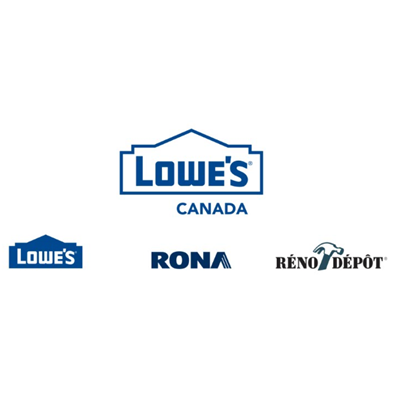 Lowe's Canada temporarily reduces opening hours of all Lowe's, RONA and Reno-Depot corporate stores across the country
Boucherville, QC – March 20, 2020 – As Lowe's Canada continues to respond to the rapidly evolving COVID-19 pandemic, it is announcing the temporary reduction of its opening hours in Canada. Starting Monday, March 23, all Lowe's, RONA and Reno-Depot corporate stores across the country will close at 6 p.m.*. This will provide additional flexibility for our dedicated associates, and increase time for essential product replenishment as well as thorough cleaning and disinfection of our stores daily.
In line with our mission, which is to deliver the right home improvement products with the best service and value, across every channel and community we serve, Lowe's Canada is committed to continuing serving Canadians in these challenging times. Our stores play an important role in providing essential products and services to our retail customers, local businesses, and communities to respond to urgent needs such as keeping their homes clean and safe, dealing with unplanned emergency repairs, or preparing for prolonged periods of time spent at home. These include, among others, supplies and equipment to maintain sanitary conditions in the home, plumbing and electric products, fire safety and prevention products, refrigerators and freezers to allow for long-term, safe storage of food and medicine, and products to help cope with severe weather events.
The health and safety of our associates and valued customers remain our top priority. In addition to enhanced cleaning efforts across our corporate stores and clear social distancing guidelines addressed to both our associates, customers, and business partners, increased measures have been taken to ensure cashiers and front-end teams are regularly cleaning their work areas and registers after each customer interaction.
As all Canadians navigate the new COVID-19 reality, we wish to remind our Lowe's, RONA and Reno-Depot customers that they can always shop for the products they need from the comfort of their home on lowes.ca, rona.ca, and renodepot.com. Given the present context, we have also instituted free parcel shipping for all products identified as eligible for parcel delivery (Purolator or Canada Post) on Lowe's, RONA and Reno-Depot websites (subject to usual conditions).
*Except in the province of Quebec where provincial law states that no store can be opened after 5 p.m. on weekends.
About Lowe's Canada
Lowe's Companies, Inc. (NYSE: LOW) is a FORTUNE® 50 home improvement company serving approximately 18 million customers a week in the United States and Canada. With fiscal year 2019 sales of $72.1 billion, Lowe's and its related businesses operate or service more than 2,200 home improvement and hardware stores and employ approximately 300,000 associates. Based in Boucherville, Quebec, Lowe's Canadian business, together with its wholly owned subsidiary, RONA inc., operates or services more than 475 corporate and independent affiliate dealer stores in a number of complementary formats under different banners. These include Lowe's, RONA, Réno-Dépôt and Dick's Lumber. In Canada, the companies have more than 26,000 associates, in addition to approximately 5,000 employees in the stores of independent affiliate dealers operating under the RONA banner. For more information, visit lowescanada.ca.