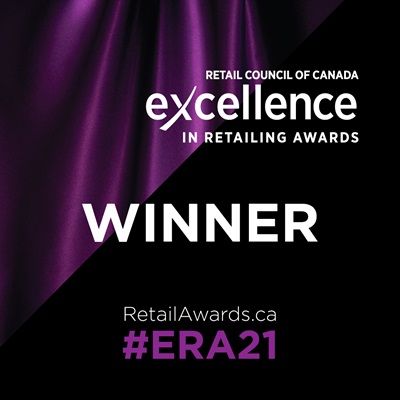 Lowe's Canada wins at 2021 Retail Council of Canada's Excellence in Retailing Awards
The company is recognized for its commitment toward improving customer experience on every channel with over 230 features
Boucherville, QC – September 15, 2021 – Lowe's Canada, one of Canada's leading home improvement retailers operating or servicing over 450 corporate and affiliated stores under different banners, proudly accepted the Omni-Channel Award (tied) last night at the Retail Council of Canada's virtual gala. Held during the STORE conference, this event celebrates the best talents and the most innovative retailers in the industry.
The Omni-Channel Award recognizes how Lowe's Canada's improved its experience across all channels, including brick and mortar stores, call centers, and digital platforms, as customers were prompted to modify their shopping habits overnight in response to the COVID-19 pandemic.
"While we are always striving to find new ways to serve our customers better, whether by focussing on our associates and their training, looking for the best brands to meet our customers' needs, or implementing new technologies, the context brought on by the pandemic prompted us to accelerate our IT transformation and fast-track initiatives to improve our omni-channel experience," said Rajat Khanna, Vice-President, IT at Lowe's Canada. "Our teams spared no effort and collaborated closely to roll out over 230 features in record time. Our goal was simple: to be there when our customers and communities needed our products and services the most, while offering them an enhanced experience no matter their preferred shopping channels."
Finalists and award winners were selected after an extensive consideration by a jury of retail industry experts.
To share this news on social media, please use @Lowe's Canada (LinkedIn) and @LowesCanadaCorp (Twitter).
About Retail Council of Canada
Retail is Canada's largest private sector employer. Retail Council of Canada (RCC) members represent more than two thirds of retail sales in the country. RCC is a not-for-profit, industry-funded association that represents small, medium and large retail businesses in every community across the country. As the Voice of Retail™ in Canada, we proudly represent more than 45,000 storefronts in all retail formats, including department, grocery, specialty, discount, independent retailers and online merchants.
About Lowe's Canada
Lowe's Companies, Inc. (NYSE: LOW) is a FORTUNE® 50 home improvement company serving approximately 20 million customers a week in the United States and Canada. With fiscal year 2020 sales of nearly $90 billion, Lowe's and its related businesses operate or service more than 2,200 home improvement and hardware stores and employ over 300,000 associates. Based in Boucherville, Quebec, Lowe's Canadian business, together with its wholly owned subsidiary RONA inc., operates or services over 450 corporate and independent affiliate dealer stores in a number of complementary formats under different banners, which include Lowe's, RONA, Reno-Depot, and Dick's Lumber. In Canada, they have more than 26,000 associates, in addition to approximately 5,000 employees in the stores of independent affiliate dealers operating under the RONA banner. For more information, visit lowescanada.ca.