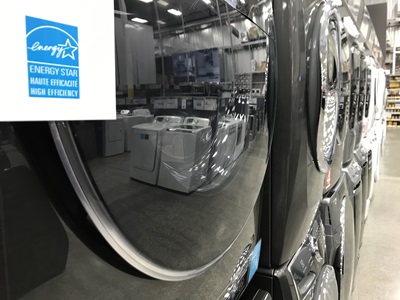 Lowe's Canada wins its first ENERGY STAR® Canada award in recognition of its excellence in energy efficiency
Boucherville, QC – June 23, 2020 – Lowe's Canada, one of Canada's leading home improvement retailers operating or servicing more than 470 corporate and affiliated stores under different banners, received the 2020 ENERGY STAR Canada Special Recognition Award today. This award recognizes Lowe's Canada's commitment to offering thousands of products with a smaller environmental footprint, including hundreds of ENERGY STAR certified products, through its ECO program that has been implemented in its Lowe's, RONA, and Reno-Depot corporate stores, as well as in participating RONA dealer-owned stores.
"At Lowe's Canada, we believe it is important to offer a wide selection of ECO products, including ENERGY STAR certified products, that are more environmentally friendly. By promoting their benefits and making them easily accessible, we are having a positive impact on consumer awareness about more sustainable choices and are helping to make the Canadian construction and home improvement industry's environmental performance better," explained Jean-Sébastien Lamoureux, Senior Vice-President, Public Affairs, Asset Protection and Sustainable Development at Lowe's Canada. "As part of our corporate responsibility approach, we are determined to offer even more ECO products and promote them further over the coming years."
In addition to participating in various energy savings rebate programs, Lowe's Canada works with suppliers to promote and continuously offer more ENERGY STAR certified products, such as appliances, lighting, and air conditioners. To facilitate the choices of consumers who want to reduce the environmental footprint of their projects, the products are readily identifiable in store and online. In addition, various home improvement guides on lowes.ca, rona.ca, and renodepot.com highlight the environmental and energy efficiency benefits of these products.
"The ENERGY STAR Canada winners create a sustainable, energy-efficient, and resilient future. By reducing pollution, lowering energy bills, and creating jobs, Lowe's contributes to making Canada shine," said the Honourable Seamus O'Regan, Canada's Minister of Natural Resources.
Key ENERGY STAR Canada-related accomplishments in 2019
The following accomplishments earned Lowe's Canada the ENERGY STAR Canada Special Recognition Award this year:
Participation in energy savings rebate programs in Ontario and British Columbia, with an instant rebate on ENERGY STAR certified products

Promotion of ENERGY STAR certified products in stores, in flyers, online, and on social media to encourage consumers to reduce their energy consumption

Expansion of the ENERGY STAR certified product assortment by adding a little over 100 new models during that year
To browse the ENERGY STAR product selections at each of our banners:
Major energy efficiency projects
In addition to offering a wide assortment of energy-efficient products to the customers of its Lowe's, RONA, and Reno-Depot banners, Lowe's Canada has also undertaken a large project to significantly reduce the energy consumption of its corporate stores and distribution centres across the country by installing building management systems and LED lighting systems. By the end of 2020, 231 locations from the Lowe's Canada network, including the Boucherville distribution centre, will be equipped with a system to optimize energy consumption, and 162 locations will have a LED lighting system. These initiatives, which are the result of a $24 million investment, will contribute to significantly reducing the company's greenhouse gas (GHG) emissions. Earlier this year, Lowe's Canada set a target to reduce its GHG emissions to 40% below its 2016 levels by 2030.
To share this news on social media, please use @Lowe's Canada (LinkedIn) and @LowesCanadaCorp (Twitter).
About Lowe's Canada
Lowe's Companies, Inc. (NYSE: LOW) is a FORTUNE® 50 home improvement company serving approximately 18 million customers a week in the United States and Canada. With fiscal year 2019 sales of $72.1 billion, Lowe's and its related businesses operate or service more than 2,200 home improvement and hardware stores and employ approximately 300,000 associates. Based in Boucherville, Quebec, Lowe's Canadian business, together with its wholly owned subsidiary, RONA inc., operates or services more than 470 corporate and independent affiliate dealer stores in a number of complementary formats under different banners. These include Lowe's, RONA, Réno-Dépôt and Dick's Lumber. In Canada, the companies have more than 26,000 associates, in addition to approximately 5,000 employees in the stores of independent affiliate dealers operating under the RONA banner. For more information, visit lowescanada.ca.