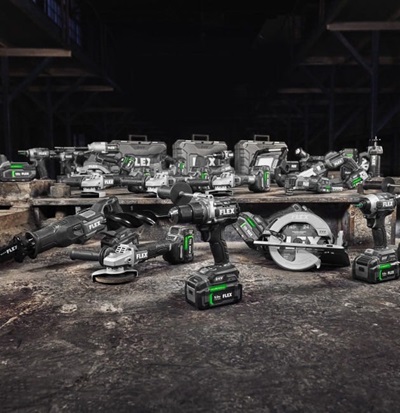 Lowe's Canada equips Pros and DIYers for all their projects with Flex and Kobalt
These two leading brands are making a grand entrance at Lowe's, RONA, and Réno-Dépôt
Boucherville (QC) – June 13, 2022 – With the construction and home improvement industry's busiest season in full swing, Lowe's Canada, one of Canada's leading home improvement retailers operating or servicing some 450 corporate and affiliated stores under various banners, is officially launching the Flex and Kobalt brands in stores. The complete product lines have been available online since the beginning of the year on the Lowe's, RONA, and Réno-Dépôt websites, and will gradually be rolled out in stores over the next few months, starting with Réno-Dépôt stores, which will receive an expanded product assortment just in time for Father's Day and followed by Lowe's this fall.
"The Lowe's Canada Merchandising team is constantly on the lookout for innovative solutions to better meet the needs of Canadians. These two brands are real game changers for DIYers and contractors nationwide, thanks to products that set new standards in the market in their respective categories and offer more value to our customers," explained Chris West, Senior Vice-President, Merchandising at Lowe's Canada.
Kobalt: An accessible and versatile product assortment
Kobalt is a versatile private brand that offers a wide selection of cordless tools and outdoor power equipment (OPE) designed to meet DIYers' needs. Affordable and powerful, Kobalt devices come with a five-year warranty (three years for batteries) and are designed to make life easier for homeowners who need to do routine work around the house. This cordless tool assortment features a total of more than 70 products in three performance categories: 24 V Max, 24 V Max XTR and 40 V. Kobalt also offers a large variety of corded and hand tool, as well as storage solutions.
Flex: Redefining cordless performance for Pros
Featuring 50% faster charging times, 25% more runtime, and 20% more power, the Flex assortment of cordless tools sets a new standard for cordless performance on construction sites.
"The addition of this brand is exciting news for our professional customers," said Jeff Oben, Senior Director, Pros – Stores, at Lowe's Canada. "Things move fast on a job site, so it's essential for contractors to have reliable, high-performance tools that allow them to do more work, more efficiently. And that's exactly what the Flex assortment offers."
Lowe's, RONA, and Réno-Dépôt customers currently have access to some 30 Flex products, but this range is expected to grow later this year with a second wave of products featuring an even more powerful lineup with lithium batteries. This new product assortment comes with interchangeable batteries for all its tools, which provide three times the power, four times the runtime, and even faster charging times.
To share this news on social media, use @LowesCanadaCorp (Facebook), @Lowe's Canada (LinkedIn), and @LowesCanadaCorp (Twitter).
About Lowe's Canada
Lowe's Companies, Inc. (NYSE: LOW) is a FORTUNE® 50 home improvement company serving approximately 19 million customer transactions a week in the United States and Canada. With fiscal year 2021 sales of over $96 billion, Lowe's and its related businesses operate or service nearly 2,200 home improvement and hardware stores and employ over 300,000 associates. Based in Boucherville, Quebec, Lowe's Canadian business, together with its wholly owned subsidiary RONA inc., operates or services some 450 corporate and independent affiliate dealer stores in a number of complementary formats under different banners, which include Lowe's, RONA, Reno-Depot, and Dick's Lumber. In Canada, they have more than 26,000 associates, in addition to approximately 5,000 employees in the stores of independent affiliate dealers operating under the RONA banner. For more information, visit lowescanada.ca.