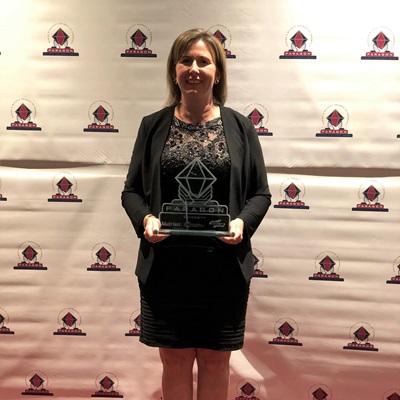 Lowe's South Regina wins a Paragon Award in the Diversity category at the 2019 Regina & District Chamber of Commerce gala
Boucherville, QC – April 8, 2019 – Lowe's, a banner of Lowe's Canada, a leading home improvement company in the country, congratulates the Lowe's South Regina team for bringing home a prestigious Paragon Award in the Diversity category at the 2019 gala held on April 5. The Paragon Awards celebrate business excellence among the Regina & District Chamber of Commerce members. The Lowe's South Regina team was recognized for nurturing, through different activities and policies, a culture that encourages diversity in the workplace.
"We are really proud to accept this award in recognition of our team's positive attitude, openness, and acceptance. We celebrate our employees' diversity in everything we do, from our communications, to our special activities, and even with our customer service," said Cheryl Ginter, Store Manager. "Because of our team's diverse background, we have a better understanding of our customers' different cultures and can more adequately meet their home improvement needs."
"I applaud the Lowe's South Regina team for this well-deserved award. Our network of corporate stores is operated by helpful and resourceful employees who leverage their cultural differences to provide excellent service to our professional and retail customers. I am proud to see their work and attitude rewarded by the business community," added Guy Beaumier, Executive Vice-President, Operations at Lowe's Canada.
To share this news on social media, please use @Lowes_Canada (Twitter), @LowesCanada (Facebook), and @Lowes stores in Canada (LinkedIn).
About Lowe's Canada
Lowe's Companies, Inc. (NYSE: LOW) is a FORTUNE® 50 home improvement company serving more than 18 million customers a week in the United States, Canada, and Mexico. With fiscal year 2018 sales of $71.3 billion, Lowe's and its related businesses operate or service more than 2,200 home improvement and hardware stores and employ approximately 300,000 associates. Based in Boucherville, Quebec, Lowe's Canadian business, together with its wholly owned subsidiary, RONA inc., operates or services more than 600 corporate and independent affiliate dealer stores in a number of complementary formats under different banners. These include Lowe's, RONA, Réno-Dépôt, Ace and Dick's Lumber. In Canada, the companies have more than 28,000 associates, in addition to approximately 5,000 employees in the stores of independent affiliate dealers operating under the RONA and Ace banners. For more information, visit lowescanada.ca.