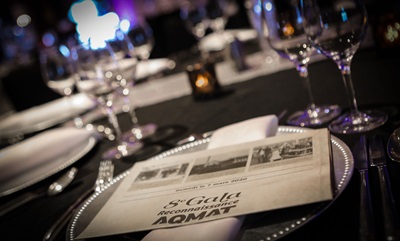 Members of the Quebec hardware industry award four prizes to employees and stores from the Lowe's Canada network
Photo credit: Ysabelle Forest
AQMAT's Gala Reconnaissance, held last Saturday, also honoured André Dion, an important figure in RONA's history
Boucherville, QC – March 11, 2020 – Lowe's Canada, one of Canada's leading home improvement retailers operating or servicing more than 475 corporate and affiliated stores under different banners, congratulates employees and stores from its corporate and affiliated dealer network that were acknowledged at the 8th Gala Reconnaissance organized by the Quebec Hardware and Building Supply Association (AQMAT):
Prix Ascension: Dominic Messier, Store Manager, L'Entrepôt RONA Granby

Prix Manager: Michèle Rivard, Director of Operations, RONA Quincaillerie du Plateau, Montreal

Prix Société: RONA Iberville, Saint-Jean-sur-Richelieu

Prix Conquérant: RONA Matériaux Pont-Masson, Alfred, Casselman, Mirabel, Rigaud, Roxboro, Salaberry-de-Valleyfield, and Sainte-Clotilde-de-Châteauguay
Held on Saturday, March 7, at the Fairmont Queen Elizabeth in Montreal, this special evening celebrated AQMAT's 80-year anniversary. On this occasion, the Gala's organizing committee honoured André Dion, former CEO of RONA, for his contribution to Quebec's hardware industry. In addition, Serge Kingsley, Store Manager of L'Entrepôt RONA in Saint-Hyacinthe, and Normand Beaumont, Assistant Manager of dealer-owned RONA Quincaillerie Gauvin, in L'Ancienne-Lorette, were rewarded along with four other employees nominated in the Loyalty category to highlight their long career with the same organization in the Quebec hardware industry.
"Our network, and our history, are full of knowledgeable, forward-thinking, and driven people ready to help Quebeckers with their projects. I am proud to see their efforts and achievements rewarded by our industry peers, and I want to congratulate the winning employees and stores," said Tony Hurst, President of Lowe's Canada.
"We are happy to see AQMAT acknowledge our affiliated dealers, our employees, and André Dion's contribution to the Quebec hardware industry," added Philippe Element, Vice-President, Sales and Dealer Support, Lowe's Canada. "From his start under Napoléon Piotte to the seven years spent as the head of RONA, this loyal and visionary builder left his mark on the Quebec home improvement landscape, including through building the Boucherville distribution centre, acquiring Botanix and Dismat, and having RONA listed on the stock exchange. Mr. Dion more than deserved to be honoured on Saturday," said Mr. Element.
AQMAT's Gala Reconnaissance rewards the best companies, innovative products, and the most deserving employees in the Quebec hardware and building materials industry. An independent panel of industry members awarded sixteen prizes this year, eight of which were for stores and their employees.
About Lowe's Canada
Lowe's Companies, Inc. (NYSE: LOW) is a FORTUNE® 50 home improvement company serving approximately 18 million customers a week in the United States and Canada. With fiscal year 2019 sales of $72.1 billion, Lowe's and its related businesses operate or service more than 2,200 home improvement and hardware stores and employ approximately 300,000 associates. Based in Boucherville, Quebec, Lowe's Canadian business, together with its wholly owned subsidiary, RONA inc., operates or services more than 475 corporate and independent affiliate dealer stores in a number of complementary formats under different banners. These include Lowe's, RONA, Réno-Dépôt and Dick's Lumber. In Canada, the companies have more than 26,000 associates, in addition to approximately 5,000 employees in the stores of independent affiliate dealers operating under the RONA banner. For more information, visit lowescanada.ca.