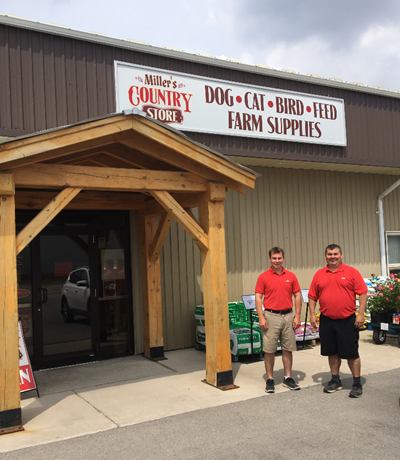 Miller's Country Store in Exeter, Ontario, now proudly displays the Ace banner
The conversion of the family-run business to the Ace banner will represent a local investment of $25,000 and create two new jobs
Boucherville, QC – July 17, 2019 – The most celebrated "helpful place" is proud to welcome a new store to its Ace Canada affiliated dealer store network. Located at 137 Thames Road in Exeter, Ontario, the store known for its high-quality products and outstanding service has been serving the Exeter community since 2010. Father and son, Doug and Barry Eidt, who own another Ace store in Mitchell, Ontario, acquired the business in May 2019 and are in the process of converting it to the Ace banner to bring even more choices and value to local customers. The conversion of the 5,000-sq.-ft. store represents a local investment of $25,000 and is expected to create two new jobs.
"With the acquisition of Miller's Country Store in Exeter, we are excited to expand our customer base into Huron County," explained Barry Eidt. "Later this summer, we will be renaming the store Miller's Ace Country & Garden to help build the Ace brand across Canada. The same great staff and some new faces will be serving you in a store known as 'the helpful place.' We plan to incorporate as many services into Exeter as we already have in Mitchell. Miller's and our Mitchell Ace have so many similar products and brands that, when we wanted to expand, Miller's provided the perfect opportunity in a great town. We're very excited to get started."
The newly converted store will continue to stock the products that customers have come to expect from Miller's Country Store—such as farm products, pet food, and workwear—and will also offer more categories and approximately 100 new items, including CRAFTSMAN® tools. The addition of an appliance showroom and dedicated seasonal section will truly make this store a one-stop shop for local homeowners. Later this summer, customers will also be able to shop online at www.ace-canada.ca and have access to thousands of additional products at their fingertips. The "Click & Collect" service will allow them to make purchases whenever and wherever they want before picking up their order in store.
"Doug and Barry have been part of our Ace family since 2017, and we are thrilled to see them expand their business and bring the Ace experience to customers in Huron County," said Philippe Element, Vice-President, RONA & Ace Sales and Dealer Support. "They are dedicated entrepreneurs who spare no effort to bring only the best to their customers and support their community. I know they will bring the same outstanding service to their Exeter store that they are known for in Mitchell."
About Ace Canada
For more than 90 years, Ace Hardware has been known as the helpful place in thousands of neighborhoods globally, providing customers with a more personal kind of helpful. With more than 5,000 hardware stores locally owned and operated around the globe, Ace is the largest retailer-owned hardware cooperative in the world. In Canada, RONA inc., a wholly owned Lowe's subsidiary, has the master license agreement for the Ace brand. Ace Canada is proud to be part of Lowe's Canadian businesses, which together operate or service more than 600 corporate and independent affiliate dealer stores in a number of complementary formats under different banners. For more information on Ace in Canada, visit www.acecanada.ca.
About Lowe's Canada
Lowe's Companies, Inc. (NYSE: LOW) is a FORTUNE® 50 home improvement company serving more than 18 million customers a week in the United States and Canada. With fiscal year 2018 sales of $71.3 billion, Lowe's and its related businesses operate or service more than 2,200 home improvement and hardware stores and employ approximately 300,000 associates. Based in Boucherville, Quebec, Lowe's Canadian business, together with its wholly owned subsidiary, RONA inc., operates or services more than 600 corporate and independent affiliate dealer stores in a number of complementary formats under different banners. These include Lowe's, RONA, Réno-Dépôt, Ace and Dick's Lumber. In Canada, the companies have more than 28,000 associates, in addition to approximately 5,000 employees in the stores of independent affiliate dealers operating under the RONA and Ace banners. For more information, visit lowescanada.ca.