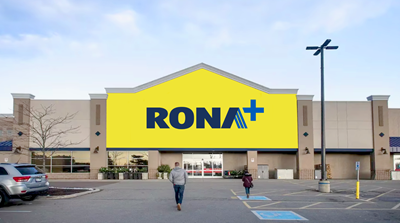 More Lowe's Stores Set to Convert to the RONA+ Banner
Update from October 5, 2023: Due to circumstances beyond our control, we must postpone the conversions of the Lowe's Vancouver Grandview and Lowe's Abbotsford stores.
As of November 9, nine new RONA+ stores will open their doors to the public in British Columbia, Saskatchewan and Manitoba
Boucherville, QC, September 14, 2023 – RONA inc., one of Canada's leading home improvement retailers operating or servicing some 425 corporate and affiliated stores under different banners, is continuing its transition plan to make RONA the leader of the Canadian home improvement sector. Today, the organization is announcing the conversion of nine new Lowe's stores to the RONA+ banner in British Columbia, Saskatchewan and Manitoba:
Lowe's Vancouver Grandview

Lowe's Abbotsford

Lowe's Victoria Langford

Lowe's Victoria Tillicum

Lowe's Nanaimo

Lowe's Regina South

Lowe's Saskatoon West

Lowe's Winnipeg East

Lowe's Winnipeg South
The stores will remain open during the conversion and RONA's priority during this transition will remain to offer its customers the best possible shopping experience.
To share this news on social media, please use @RONAcarrieres.careers (Facebook), @RONA (LinkedIn), and @RONAinc (Twitter).
About RONA inc.
RONA inc. is one of Canada's leading home improvement retailers headquartered in Boucherville, Québec. The RONA inc. network operates or services some 425 corporate and affiliated dealer stores under the Lowe's, RONA+, RONA, Réno-Dépôt, and Dick's Lumber banners. With a long and rich history, RONA inc. supports Canadians in their home improvement and construction projects since 1939. To achieve this, the company relies on a team of 22,000 employees, to whom it strives to provide an inclusive workplace where everyone is invited to contribute. RONA inc. is one of the Montréal region Top Employers since 2021. As a result of its ongoing efforts in sustainable development, the company was also awarded the Stratégie de développement durable Mercure in 2022 and is recognized as one of Canada's Greenest Employers. To learn more about the company, visit the website www.ronainc.ca.