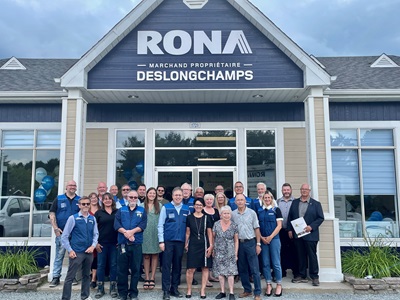 The new RONA Deslongchamps appliance store officially opens in Rivière-Rouge
The dealer owner introduces a showroom concept, a first in the network
Boucherville, QC – August 17, 2022 – Lowe's Canada, one of Canada's leading home improvement retailers operating or servicing some 450 corporate and affiliated stores under different banners, joins Éric Deslongchamps, owner of three other RONA stores in the Gatineau Valley and the Upper Laurentians, to celebrate the opening of the first showroom in the RONA network. On August 17, leaders from the RONA Dealer Support Team, partners, and employees were in attendance for the traditional board-cutting ceremony that took place at 1721, rue L'Annonciation Sud in Rivière-Rouge.
A Showroom, a First in the RONA Network
The goal of this new concept is to provide an improved shopping experience. The store is designed as a showroom where appliances and other products are showcased in fully furnished indoor and outdoor living spaces. It also features a range of products on display, including high-end stoves and fireplaces, barbecues, kitchen cabinets, fashion plumbing items, as well as bricks and stones. In an inspiring and home-like space, customers can choose their products and leave with their purchases on the same day, or take advantage of a high-end "White Glove Delivery Service," and have their purchases delivered within a few days. This applies to all products in stock, including hundreds of appliance models.
"We listened to our customers and wanted to innovate to provide a shopping experience that meets their needs. Through this new store concept, we want to show projects as a whole and inspire our customers. But above all, we want to give them quick access to the products they need for their home or commercial projects, as well as a wide selection of appliances," said Mr. Deslongchamps.
The 5,000-sq.-ft. building and 2,000-sq.-ft. adjacent warehouse have been completely renovated, representing a major investment of $500,000 in the region and creating three new full-time jobs. Customers now have access to an expanded offering with 100 products from RONA's leading brands, such as Bosch, Frigidaire, Samsung, LG, Whirlpool, and many more.
"The retail market is constantly changing. Eric and his team have been able to adapt and stand out in a way that benefits their customers," added Philippe Element, Vice-President, RONA Sales and Dealer Support at Lowe's Canada. "We've been pleased to collaborate with their team and use our expertise to support their vision and growth plans since they joined our network of RONA affiliated dealers in 2006."

Grand Opening Celebrations

In addition to the board-cutting ceremony, the store team will be holding various activities from August 18 to 20 to celebrate the store's opening with customers and the community. In addition, the first 50 customers to purchase appliances during this period will receive a free piece of Starfrit kitchenware or Comerco cleaning product kits.
To share the news, please use @Ronadeslongchamps (Facebook), @RONAinc (Twitter), and @RONA (LinkedIn).
About RONA Deslongchamps
For over 80 years, RONA Deslongchamps has been meeting the constantly evolving needs and expectations of its retail and professional customers. The extensive know-how of the great home improvement families—Constantineau, Whear, Daudelin, and Deslongchamps—entwined in the business's history, has shaped its identity. Known for its excellent service, the business is also deeply involved in the communities it serves. With its four stores located in Mont-Laurier, Rivière-Rouge, and Maniwaki, RONA Deslongchamps is the go-to destination in the Upper Laurentians and Gatineau Valley for construction, home improvement, and decoration projects.
About Lowe's Canada
Lowe's Companies, Inc. (NYSE: LOW) is a FORTUNE® 50 home improvement company serving approximately 19 million customer transactions a week in the United States and Canada. With fiscal year 2021 sales of over $96 billion, Lowe's and its related businesses operate or service nearly 2,200 home improvement and hardware stores and employ over 300,000 associates. Based in Boucherville, Quebec, Lowe's Canadian business, together with its wholly owned subsidiary RONA inc., operates or services some 450 corporate and independent affiliate dealer stores in a number of complementary formats under different banners, which include Lowe's, RONA, Reno-Depot, and Dick's Lumber. In Canada, they have more than 26,000 associates, in addition to approximately 5,000 employees in the stores of independent affiliate dealers operating under the RONA banner. For more information, visit lowescanada.ca.