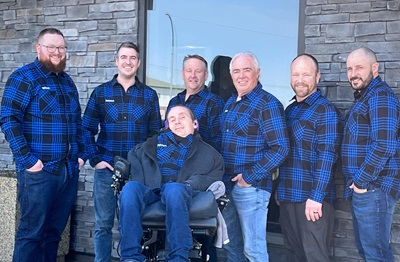 New RONA store in Vegreville, Alberta
Vantage Building Supplies joins the RONA banner and announces expansion plans for its retail space
Boucherville, QC, April 12, 2023 – RONA inc., one of Canada's leading home improvement retailers operating or servicing some 450 corporate and affiliated stores under different banners, is pleased to welcome Vantage Building Supplies in Alberta, and its ownership, to its network of RONA affiliated dealers. Walter Gegolick, Hugh Ziprick, Darren Davis, Ben Sawatzky, Paul Ziprick, Dayton Gegolick, and Cory Batog are all eager to join the RONA team.
Founded in 1975, Vantage Builders added in 2005 the Vantage Building Supplies Hardware Store to their business model in Vegreville, starting at the time to shape the ownership to what it is today. ''We are at a turning point in the evolution of our company and have chosen to join the RONA brand to propel our growth and expand our offer. We are dedicated to serving our local community and want to provide more than just a lumber yard or a general store. We feel RONA is the ideal partner to help us further consolidate our leadership in the seasonal, fashion plumbing, home decor, appliances, as well as the paint and accessories departments. This partnership will also allow us to expand our Building Material lineup and extend our design services,'' says President Walter Gegolick. "RONA Vegreville intends to solidify its retail position in the market," adds Store Manager Evan Raycraft and he is excited to benefit from the RONA tools and programs to better serve the community and surrounding area of Vegreville.
To support their growth ambitions, the owners of RONA Vegreville are investing more than $1,000,000 to expand the retail space in two phases, first adding 3,000 square feet to the existing 4,500 square feet, and then adding 2,500 square feet in a second phase, for a total of 10,000 square feet. A dedicated contractor entrance will be part of this expansion. The store also features a four-acre drive-through outdoor lumber yard. Among their key features are a wide range of home decor, kitchen, and bath product lines, plus an extensive paint line-up. What's more, the store has the largest appliance section in the area. In addition, they will be looking to adding experts to their team for these new categories which will be creating more full-time positions in the store.
''We are happy that the Vantage Building Supplies team chose to join the RONA family to elevate their business and benefit from our omnichannel capabilities, our major buying power, and our vast distribution network. We share the same values when it comes to offering outstanding customer service and the right product selection to better meet clients' expectations,'' added Philippe Element, Vice-President, RONA Dealer Sales and Support.
To share this news on social media, please use @RONAcarrieres.careers (Facebook), @RONA (LinkedIn) and @RONAinc (Twitter).
About RONA inc.
RONA inc. is one of Canada's leading home improvement retailers and is headquartered in Boucherville, Québec. The RONA inc. network operates or services some 450 corporate and affiliated dealer stores under the Lowe's, RONA, Réno-Dépôt, and Dick's Lumber banners. With a long and rich history, RONA inc. has supported Canadians in their home improvement and construction projects since 1939. To achieve this, the company relies on a team of 26,000 employees, to whom it strives to provide an inclusive workplace where everyone is invited to contribute. RONA inc. is one of the Montréal region's Top Employers since 2021. As a result of its ongoing efforts in sustainable development, the company was awarded the Stratégie de développement durable Mercure in 2022 and is recognized as one of Canada's Greenest Employers. To learn more about the company, visit the website www.ronainc.ca.