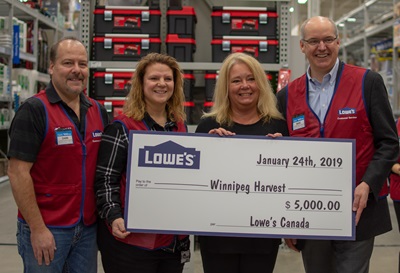 New Winnipeg East Lowe's store with enhanced customer offering opens today
Lowe's Canada celebrates the opening of its 67th Lowe's store in Canada and first new model Lowe's store in Manitoba
Boucherville, QC. January 24, 2019 – Lowe's Canada opened today its first store in Manitoba featuring the new model of Lowe's stores, which offers an enhanced shopping experience. The store, located at 775 Panet Road in Winnipeg, was converted from the former RONA Home and Garden. It was designed by taking the best of Lowe's and RONA's offerings to create the new model of Lowe's stores.
"We are thrilled to kick off the New Year with the opening of our 67th Lowe's store in Canada. Now more than ever, we are committed to the Lowe's banner, and we are excited to bring Lowe's unique customer experience and product selection to even more DIYers and home improvement enthusiasts in the Winnipeg area," said Guy Beaumier, Executive Vice-President, Stores at Lowe's Canada. "Each day, we strive to deliver the best service and value to our customers across every channel, including our industry-leading eCommerce solutions, making it easier for Canadians to tackle all their renovation projects, big or small."
The store underwent an extensive 16-week physical transformation from the former RONA which involved construction, departmental sequencing of new racking and re-merchandising, branding and IT conversion, as well as significant investment in our people with exhaustive training focused on new product knowledge and customer service.
New Retail Experience
The new Winnipeg East Lowe's offers an enhanced retail experience, including:
A wider assortment of seasonal products such as CRAFTSMAN

®

snowblowers and outdoor power equipment, patio furniture, seasonal decorations, etc.

A complete selection of appliances and the introduction of entirely new product categories including Lowe's private labels, and top brands such as John Deere, Husqvarna, and Cub Cadet.

A broader selection of fashion plumbing products such as tubs, showers, toilets, vanities, sinks and faucets with the introduction of high-profile brands such as Kohler and Grohe.

Floor displays featuring the latest fashions in wood flooring and tiles with larger displays at eye level allowing customers to better visualize their projects and better experience the texture of products.

Access to more than 210,000 products on www.lowes.ca.
Enhanced Contractor Experience
The new Winnipeg East location also offers an enhanced shopping experience for pros and commercial customers, including:
The introduction of the Contractor Rewards Program (i.e. loyalty and pricing program).

Access to a drive-through lumber yard where contractors can load their vehicles directly to save time, as well as have access to a broader lumber assortment.

The Winnipeg East store is the first Lowe's store in Manitoba to introduce charge accounts that allow commercial customers to shop at any RONA corporate store and new model Lowe's store throughout Canada and receive a single monthly invoice.

Introduction of corporately owned and operated delivery trucks to provide a more personalized level of service for deliveries to contractors.

Enhanced assortment in key contractor categories including lumber, building materials, millwork, tools, hardware, etc.
The new Winnipeg East Lowe's marks the company's 67th store in Canada under the Lowe's banner and the second Lowe's location in Winnipeg. The store represents a local investment in excess of $4 million and created 30 new jobs – in total, the store has over 90 permanent positions with an additional 70 seasonal roles.
The store offers about 40,000 products in-stock to meet customers' home improvement needs and features a retail offering space totaling more than 175,000 square feet, including approximately 103,000 square feet of retail sales space, an adjacent garden centre of 18,300 square feet, a greenhouse with 6,300 square feet and an outdoor drive-through lumber yard of 50,300 square feet.
Today, local dignitaries and Lowe's executives joined employees from the store to celebrate the grand opening through an official board cutting ceremony and community grant presentation. Lowe's donated $5,000 to Winnipeg Harvest to support their Breakfast2Go program that provides nutritious food to underprivileged school-aged children during the weekend.
Grand Opening Events
Grand opening activities for the new store, where customers can enjoy free sessions, giveaways and contests, will continue until Monday. These include:
Thursday, January 24 to Sunday, January 27

Enter to win 1 of 5 grand prizes.
Thursday, January 24

Giveaway: 5K natural ice melter jug (first 175 customers)

Friday, January 25

Giveaway: Bosch 32-piece screwdriver bit set (first 200 customers)

Saturday, January 26

Children's Workshop for families at 10 a.m.

Live in-store radio remote with QX 104 Today's Country and a draw for a $250 Lowe's gift card and a small appliance

Giveaway: $25 Lowe's gift card (first 150 customers)

Sunday, January 27

Giveaway: Lowe's white water bottle (first 100 customers)

Monday, January 28
Exclusive VIP event for contractors from 12 to 2 p.m. To register, contractors can call the store at 204.663.7389 and ask to speak with the Contractor Specialist to request an invite.
Draw to win 1 of 3 $250 Lowe's gift cards

Contractors can fill out a ballot to win 1 of 4 tool prizes
Lowe's stores in Canada
Manitoba

Winnipeg East

775 Panet Road, Winnipeg

Winnipeg South

1799 Kenaston Boulevard, Winnipeg

Alberta

Calgary Crossiron

300-261199 Crossiron Boulevard, Rocky View County

Calgary Crowfoot

90 Crowfoot Way NW, Calgary

Calgary MacLeod

9630 MacLeod Trail S, Calgary

Calgary McKenzie

13417, 52nd Street SE, Calgary

Calgary Shawnessy

295 Shawville Boulevard SE, Calgary

Calgary Signal Hill

5696 Signal Hill Centre SW, Calgary

Calgary Sunridge

2909 Sunridge Way NE, Calgary

Edmonton Gateway

10450, 42nd Avenue NW, Edmonton

Edmonton Namao

9603, 165th Avenue NW, Edmonton

Edmonton North East

3421, 158th Avenue NW, Edmonton

Edmonton South Common

10141, 13th Avenue NW, Edmonton

Edmonton West

10225, 186th Street NW, Edmonton

Lethbridge

3849 Mayor Magrath Drive S, Lethbridge

Red Deer

15 Signet Close, Red Deer

Sherwood Park

100-501 Emerald Drive, Sherwood Park

St. Albert

955 St. Albert Trail, St. Albert

British Columbia

Abbotsford

1225 Sumas Way, Abbotsford

Nanaimo

4750 Rutherford Road, Nanaimo

Prince George

2999 Massey Drive, Prince George

Queensborough

1085 Tanaka Court, New Westminster

Vancouver Grandview

2727 E 12th Avenue, Vancouver

Victoria Langford

850 Langford Parkway, Victoria

Victoria Tillicum

3170 Tillicum Road, Victoria

Ontario

Ancaster

100 Portia Drive, Ancaster

Barrie

71 Bryne Drive, Barrie

Belleville

219 Millennium Parkway, Belleville

Brampton North

10111 Heart Lake Road, Brampton

Brampton South

370 Kennedy Road S, Brampton

Brantford

215 Henry Street, Brantford

Burlington North

3270 Harrison Crescent, Burlington

Cambridge

575 Conestoga Boulevard, Cambridge

Cornwall

950 Brookdale Avenue, Cornwall

Etobicoke North

48 Lowe's Place, Etobicoke

Etobicoke South

1604 The Queensway, Etobicoke

Hamilton

1945 Barton Street E, Hamilton

Kanata

5577 Hazeldean Road, Stittsville

Kingston

1035 Gardiners Road, Kingston

Kitchener

730 Ottawa Street S, Kitchener

London North West

1335 Fanshawe Park Road W, London

London South West

3375 Wonderland Road S, London

Maple

200 McNaughton Road, Vaughan

Milton

55 Ontario Street, Milton

Mississauga Central

5348 Mavis Road, Mississauga

Nepean

340 West Hunt Club Road, Nepean

Newmarket

18401 Yonge Street, East Gwillimbury

Niagara Falls

7959 McLeod Road, Niagara Falls

Orleans

3828 Innes Road, Ottawa

Oshawa

685 Laval Drive, Oshawa

Ottawa Gloucester

1880 Innes Road, Gloucester

Pickering

1899 Brock Road, Pickering

Sarnia

1390 Quinn Drive, Sarnia

Scarborough North / Markham

6005 Steeles Avenue E, Toronto

Scarborough West

800 Warden Avenue, Toronto

Sudbury

1199 Marcus Drive, Sudbury

Thunder Bay

1000 Fort William Road, Thunder Bay

Toronto Danforth

3003 Danforth Avenue, Toronto

Toronto York

1300 Castlefield Avenue, Toronto

Vaughan

100 Edgeley Boulevard, Vaughan

Waterloo

345 The Boardwalk, Waterloo

Whitby

4005 Garrard Road, Whitby

Windsor East

7350 Catherine Street, Windsor

Windsor South

1848 Provincial Road, Windsor

Saskatchewan

Regina North

489 Albert Street N, Regina

Regina South

4555 Gordon Road, Regina

Saskatoon West

125 Betts Avenue, Saskatoon
About Lowe's Canada
Lowe's Companies, Inc. (NYSE: LOW) is a FORTUNE® 50 home improvement company serving more than 18 million customers a week in the United States, Canada and Mexico. With fiscal year 2017 sales of $68.6 billion, Lowe's and its related businesses operate or service more than 2,240 home improvement and hardware stores and employ over 310,000 people. Based in Boucherville, Quebec, Lowe's Canadian business, together with its wholly owned subsidiary, RONA inc., operates or services more than 600 corporate and independent affiliate dealer stores in a number of complementary formats under different banners. These include Lowe's, RONA, Réno-Dépôt, Ace and Dick's Lumber. In Canada, the companies have more than 28,000 employees, in addition to approximately 5,000 employees in the stores of independent affiliate dealers operating under the RONA and Ace banners. For more information, visit lowescanada.ca.