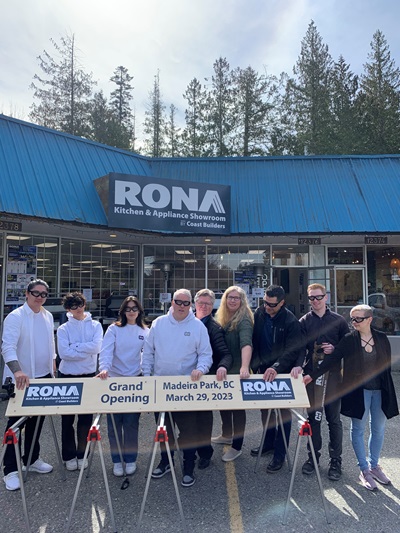 Owners of Coast Builders Officially Open Two New Kitchens and Appliances Showrooms in Sechelt and Madeira Park in British Columbia
Boucherville, Québec – March 30, 2023 – RONA, one of Canada's leading home improvement retailers operating or servicing some 450 corporate and affiliated stores under different banners, joins Russ and his family, owners of Coast Builders in the Sunshine Coast region, in British Columbia, to celebrate today the opening of two new Kitchens and Appliances Showrooms, located at the Sechelt and Madeira Park RONA stores. The Mayor of the District of Sechelt, partners, employees, and members of the RONA dealer service team attended the traditional board-cutting ceremony.
"We are listening to what our customers say, and we want them to be able to get the products and customer service experience that they would have to go to Vancouver for by ferry. Through this new showroom concept, we want to show them ideas, inspire them, give them a wide selection of appliances, and a quick access to the products they need to achieve their home or commercial projects," said Russ Jones.
A New Experiential Concept: Home-Like Showrooms
This concept provides an improved shopping experience to support the customers through their home or professional kitchen improvement projects, from the design to the installation. The store is designed as a showroom where kitchens and appliances are displayed in an environment where we feel like we are at home. Customers can select their products and have access to delivery and installation services. In-stock products, including hundreds of appliance models, can be delivered within days throughout the Sunshine Coast region.
The RONA Sechelt showroom provides a 2,500-sq.-ft. building and 1,800-sq.-ft. adjacent integrated Warehouse and Service Centre which have been completely renovated, representing a major investment of $1.5M and creating six new full-time jobs. The RONA Madeira Park showroom occupies a 1,800-sq.-ft. area. Customers now have access to an expanded offering with hundreds of new products from RONA's leading brands, such as Allen & Roth and EKLIPSE kitchens, as well as Bosch, Frigidaire, Samsung, LG, Whirlpool, and many more.
"Russ and his team are well established in their market and understand the needs of their customers. They joined our RONA affiliated dealer network in 2011. Since day one, they have been able to adapt and stand out in a way that benefits their customers," added Philippe Element, Vice-President, RONA Sales and Affiliated Dealer Support. "We are pleased to collaborate with their team and to offer our expertise in support of their growth plans."
To share this news on social media, please use @RONAcarrieres.careers and/or RONA Coast Builders (Facebook), @RONA (LinkedIn) and @RONAinc (Twitter).
About RONA inc.
RONA inc. is one of Canada's leading home improvement retailers headquartered in Boucherville, Québec. The RONA inc. network operates or services some 450 corporate and affiliated dealer stores under the Lowe's, RONA, Réno-Dépôt, and Dick's Lumber banners. With a long and rich history, RONA inc. has supported Canadians in their home improvement and construction projects since 1939. To achieve this, the company relies on a team of 26,000 employees, to whom it strives to provide an inclusive workplace where everyone is invited to contribute. RONA inc. is one of the Montréal region Top Employers since 2021. As a result of its ongoing efforts in sustainable development, the company was also awarded the Stratégie de développement durable Mercury in 2022 and is recognized as one of Canada's Greenest Employers. To learn more about the company, visit the website www.ronainc.ca.