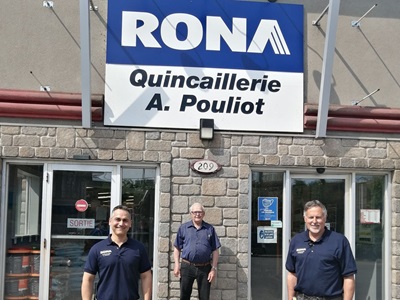 The Quincaillerie A. Pouliot store to adopt the RONA banner
Boucherville, QC – May 19, 2021 – Lowe's Canada, one of Canada's leading home improvement retailers operating or servicing some 470 corporate and affiliated stores under different banners, congratulates dealer-owner Carlos Munoz for acquiring the Quincaillerie A. Pouliot store, in Beauharnois, and converting it to the RONA banner. With a total surface area of 20,000 sq. ft., the store includes a 11,500-sq.-ft. sales area and a 6,000-sq.-ft. indoor lumber yard used to store construction materials such as treated wood, plywood and gypsum.
Founded in 1966 by the family of André Pouliot, the hardware store quickly became a go-to destination for people in the Beauharnois region. It was bought in 1974 by Mr. Jean-Guy Brazeau, whose son Daniel Brazeau took over in 1990. The quality of customer service and the great expertise of the employees—most of whom have more than 20 years of experience—are certainly the greatest assets of Quincaillerie A. Pouliot.
"Having worked for them in the past, I know RONA very well. That's why I didn't hesitate for a second, when I bought this hardware store, to join the RONA affiliated dealer network. The previous owner, Daniel Brazeau, will stay on to ensure a smooth transition, and I'm particularly delighted to be able to rely on such a great team. The current employees are courteous, motivated, qualified, and versatile, and I'm pleased to work with them. Each and every one of them has a passion for customer service, and we'll continue to share this passion as a team. I am committed to consolidating the growth of the store operations, and who knows, maybe this could lead to further acquisitions in the medium term," says Carlos Munoz, dealer owner of the RONA Quincaillerie A. Pouliot store.
"It is a privilege to be able to reconnect with Carlos Munoz, a former RONA associate, as he acquires Quincaillerie A. Pouliot, in Beauharnois, and takes over from Daniel Brazeau, who is handing over a store in excellent health. Carlos is an experienced entrepreneur who shares RONA's values, and we are confident that he will be able to provide customers in the Beauharnois region with great service," added Philippe Element, Vice-President, RONA Sales and Dealer Support at Lowe's Canada.
To share this news on social media, please use @quincaillerieapouliot Facebook), @RONA (LinkedIn) and @RONAinc (Twitter).
About RONA
Founded in 1939, RONA is a banner of Lowe's Canada, one of Canada's leading home improvement retailers headquartered in Boucherville, Quebec. Spanning the entire country, the vast network of more than 375 RONA stores includes both corporate stores and independent affiliated dealer stores. Known for its large in-store and online product offering, RONA also provides expert support and advice to its retail and professional customers for their construction and home improvement projects. For more information, visit rona.ca or follow us on Twitter, Facebook, Instagram, Pinterest, and YouTube.
About Lowe's Canada
Lowe's Companies, Inc. (NYSE: LOW) is a FORTUNE® 50 home improvement company serving approximately 20 million customers a week in the United States and Canada. With fiscal year 2020 sales of $89.6 billion, Lowe's and its related businesses operate or service more than 2,200 home improvement and hardware stores and employ over 300,000 associates.Based in Boucherville, Quebec, Lowe's Canadian business, together with its wholly owned subsidiary RONA inc., operates or services some 470 corporate and independent affiliate dealer stores in a number of complementary formats under different banners, which include Lowe's, RONA, Reno-Depot, and Dick's Lumber. In Canada, they have more than 26,000 associates, in addition to approximately 5,000 employees in the stores of independent affiliate dealers operating under the RONA banner. For more information, visit lowescanada.ca.