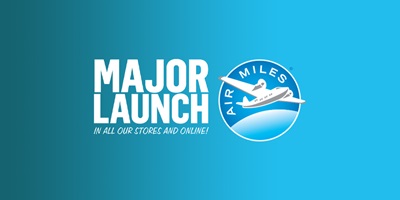 Reno-Depot joins the AIR MILES® Reward Program to provide customers with an enhanced offering
Home improvement and construction projects that pay off thanks to Reno-Depot and AIR MILES
Boucherville, QC – March 14, 2019 – Reno-Depot, a banner of Lowe's Canada, one of Canada's leading home improvement retailers, is proud to announce the launch of the AIR MILES Reward Program in all of its stores. Starting today, customers who shop at Reno‑Depot will be able to earn AIR MILES Reward Miles on eligible purchases made in store and on renodepot.com.
"Integrating AIR MILES Reward Program into the Reno-Depot offering allows us to not only provide customers with significant benefits, but also streamline the offering across our Lowe's, RONA, Reno-Depot and Ace store network. People who visit any of our stores—regardless of the banner—can now take advantage of the Program," explains Charles Valois, Divisional Vice-President, Marketing at Lowe's Canada. "We are always looking for new ways to enhance our customer offering. Therefore, we are happy to have Reno-Depot join the AIR MILES coalition of partners, which is one of the most recognized loyalty programs in Canada, to create added value for our customers."
In addition to earning Reward Miles on eligible purchases, members of the AIR MILES Program will benefit from special offers throughout the year. They will also have the opportunity to multiply their Miles by using their AIR MILES card with their Build Up Plan card (retail customers) or commercial credit card (contractors). Reno-Depot will also offer the AIR MILES Cash Reward program, which will allow customers to use their Reward Miles to get a discount on their purchases.
About Reno-Depot
Founded in 1993, Reno-Depot is a banner of Lowe's Canada, one of Canada's leading home improvement company headquartered in Boucherville, Quebec. Reno-Depot operates 21 stores in Quebec and one store in Aurora, Ontario. Reno-Depot offers more than 25 000 products catering to the needs of renovation and construction DIYers, professionals and contractors. For more information, visit renodepot.com or follow us on Twitter @RenoDepot_CA and Facebook @renodepotofficiel.
About Lowe's Canada
Lowe's Companies, Inc. (NYSE: LOW) is a FORTUNE® 50 home improvement company serving more than 18 million customers a week in the United States, Canada and Mexico. With fiscal year 2018 sales of $71.3 billion, Lowe's and its related businesses operate or service more than 2,200 home improvement and hardware stores and employ approximately 300,000 associates. Based in Boucherville, Quebec, Lowe's Canadian business, together with its wholly owned subsidiary, RONA inc., operates or services more than 600 corporate and independent affiliate dealer stores in a number of complementary formats under different banners. These include Lowe's, RONA, Réno-Dépôt, Ace and Dick's Lumber. In Canada, the companies have more than 28,000 associates, in addition to approximately 5,000 employees in the stores of independent affiliate dealers operating under the RONA and Ace banners. For more information, visit lowescanada.ca.