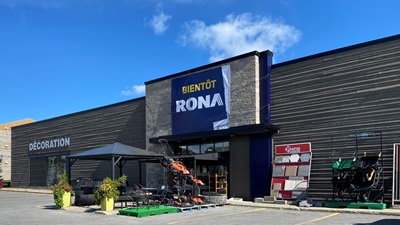 The Rivest-Ricard Family From Sainte-Julienne Joins The Network of RONA Affiliated Dealers
Boucherville, QC, September 26, 2022 – Lowe's Canada, one of Canada's leading home improvement retailers operating or servicing over 450 corporate and affiliated stores under different banners, is pleased to welcome Nathalie Fortin, Michel Ricard, and Guy Ricard, owners of the Arthur Rivest Hardware, to its network of RONA dealers. Strategically located in Sainte-Julienne, more precisely at 1405 Route 125, the RONA Arthur Rivest store will maintain about twenty jobs in its community.
"I am pleased to see the company grow within a strong network. With RONA and its teams of experts, our operations will be centralized and we will develop our online offer, as well as the appliances and kitchen cabinet categories," adds Mr. Ricard. "Gradually, the 4th generation of my family will take over this store and I am very proud of that."
"The store benefits from a rich history and an obvious reputation in Sainte-Julienne. We are pleased to be part of the company's growth through our broad product offering, but also through our services, programs, and omnichannel capabilities," added Philippe Element, Vice-President, RONA Sales and Dealer Support at Lowe's Canada. "I also want to acknowledge the work of the Ricard family and thank them for serving their community for almost 60 years now."
With an 11,000-sq.-ft. sales floor, a 5,000-sq.-ft. indoor lumber yard, and a 10,000-sq.-ft. outdoor lumber yard, the RONA Arthur Rivest is specialized in flooring and painting, in addition to offering plumbing, electricity, tools, and seasonal items.
To share this news on social media, please use @LowesCanadaCorp and/or @Arthurrivestinc (Facebook), @Lowe's Canada (LinkedIn), and @LowesCanadaCorp (Twitter).
About RONA
Founded in 1939, RONA is a banner of Lowe's Canada, one of Canada's leading home improvement retailers headquartered in Boucherville, Quebec. Spanning the entire country, the vast network of more than 360 RONA stores includes both corporate stores and independent affiliated dealer stores. Known for its large in-store and online product offering, RONA also provides expert support and advice to its retail and professional customers for their construction and home improvement projects. For more information, visit rona.ca or follow us on Twitter, Facebook, Instagram, Pinterest, and YouTube.
About Lowe's Canada
Lowe's Companies, Inc. (NYSE: LOW) is a FORTUNE® 50 home improvement company serving approximately 19 million customer transactions a week in the United States and Canada. With fiscal year 2021 sales of over $96 billion, Lowe's and its related businesses operate or service nearly 2,200 home improvement and hardware stores and employ over 300,000 associates. Based in Boucherville, Quebec, Lowe's Canadian business, together with its wholly owned subsidiary RONA inc., operates or services some 450 corporate and independent affiliate dealer stores in a number of complementary formats under different banners, which include Lowe's, RONA, Reno-Depot, and Dick's Lumber. In Canada, they have more than 26,000 associates, in addition to approximately 5,000 employees in the stores of independent affiliate dealers operating under the RONA banner. For more information, visit lowescanada.ca