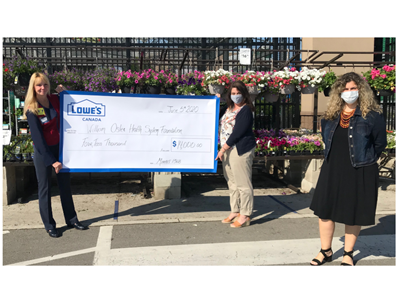 RONA and Lowe's corporate stores in the GTA present William Osler Health System Foundation with $14,000
The funds will go toward the purchase of lifesaving equipment needed to help hospitals keep up with the current COVID-19 demand
Boucherville, QC – June 8, 2020 – The 14 Lowe's and RONA corporate stores in the Greater Toronto Area (GTA) are proud to unite in support of William Osler Health System Foundation (Osler Foundation) amid the current COVID-19 context. Osler Foundation received a total donation of $14,000 to help with the purchase of critical medical equipment needed to respond to the demands and challenges their three hospitals in the GTA are facing during this pandemic. Earlier this week, members of Osler Foundation and the Lowe's Canada network held a socially distanced official cheque presentation to mark the occasion.
"Now, more than ever, we are grateful to count on the dedication of our health care workers who have been giving their all, day in and day out, to help our communities deal with COVID-19," explained Ramona Paul, District Manager at Lowe's Canada. "Hospitals have been facing increased pressure over the past few weeks, and it was important to us to give back to help front-line workers continue their outstanding work."
The funds will go toward the purchase of medical equipment, including ventilators, vital sign monitors, vein finders and stretchers to treat COVID-19 patients. "We are truly grateful for the support from Lowe's Canada," said Ken Mayhew, President & CEO, Osler Foundation. "Our community has truly stepped up and this gift reflects the support and appreciation for our health care heroes. Donations like this demonstrate the simple fact that we are all in this together."
This donation was made possible thanks to the philanthropic investment of $1,000,000 that was announced by Lowe's Canada on April 14 to support its associates and communities affected by the COVID-19 pandemic. The company has committed to presenting a total of $241,000 to allow Lowe's, RONA, Reno-Depot, and Dick's Lumber corporate stores across the country to support, either in cash or in kind, initiatives to meet the specific needs of the communities within their region.
To share this news on social media, please use @Lowe's Canada and @William Osler Health System (LinkedIn) as well as @LowesCanadaCorp and @OslerFoundation (Twitter).
About William Osler Health System and Foundation
William Osler Health System is a hospital system, which includes Brampton Civic Hospital, Peel Memorial Centre for Integrated Health and Wellness and Etobicoke General Hospital, and serves 1.3 million residents of Brampton, Etobicoke and surrounding communities within the Central West region. Osler's emergency departments are among the busiest in Canada and its labour and delivery program is one of the largest in the province. William Osler Health System Foundation seeks to create a healthier community through giving by inspiring its communities to invest in exceptional health care close to home.
About Lowe's Canada
Lowe's Companies, Inc. (NYSE: LOW) is a FORTUNE® 50 home improvement company serving approximately 18 million customers a week in the United States and Canada. With fiscal year 2019 sales of $72.1 billion, Lowe's and its related businesses operate or service more than 2,200 home improvement and hardware stores and employ approximately 300,000 associates. Based in Boucherville, Quebec, Lowe's Canadian business, together with its wholly owned subsidiary, RONA inc., operates or services more than 470 corporate and independent affiliate dealer stores in a number of complementary formats under different banners. These include Lowe's, RONA, Réno-Dépôt and Dick's Lumber. In Canada, the companies have more than 26,000 associates, in addition to approximately 5,000 employees in the stores of independent affiliate dealers operating under the RONA banner. For more information, visit lowescanada.ca.