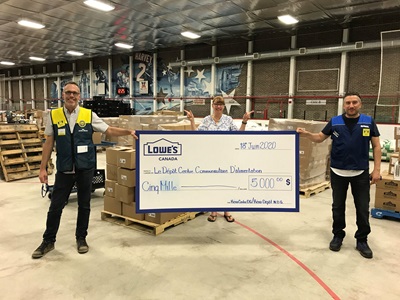 RONA and Reno-Depot stores on Montreal's South Shore and in the West Island present a total of $15,000 to local food banks
Boucherville QC – June 22, 2020 – As food banks nationwide are facing increased demand to support citizens impacted by the COVID-19 pandemic, the RONA and Reno-Depot corporate stores on Montreal's South Shore and in the West Island are thrilled to present a total of $15,000 to two local food banks. Moisson Rive-Sud and The Depot Community Food Centre were recently presented with cheques in the amount of $10,000 and $5,000, respectively, to help them provide emergency food aid to local residents facing food insecurity.
Over the past few weeks, many Canadians who lost their jobs in the wake of the COVID-19 crisis have turned to food banks, which have seen an increase in food aid requests. "We are thrilled to give back to these organizations, which have worked tirelessly for some 30 years to help maintain food security for members of their community," explained Eric Kingsley, District Manager at Lowe's Canada. "In this time of uncertainty, having enough to eat should not be an additional burden."
"We are grateful to Lowe's Canada and its RONA and Reno-Depot stores on the South Shore for their donation, which will enable us to distribute over $210,000 in food to our beneficiaries," said Dany Hétu, Executive Director of Moisson Rive-Sud. "Food aid requests have doubled at Moisson Rive-Sud since the pandemic began. It is thanks to such acts of generosity that we are able to continue our mission."
"Since March 20, we have distributed over 135,000 lbs of food to more than 5,000 people, 1,500 of whom are children," explained Bonnie Soutar, Director of Development at The Depot Community Food Centre. "We have been receiving an exceptional number of requests; since the beginning of the pandemic, half of the requests for baskets have come from households that have never used our services before. Donations such as this one enable us to respond to the scale of this crisis."
Both donations were made possible thanks to the philanthropic investment of $1,000,000 that was announced by Lowe's Canada on April 14 to support its associates and communities affected by the COVID-19 pandemic. The company has committed to presenting a total of $241,000 to allow Lowe's, RONA, Reno-Depot, and Dick's Lumber corporate stores across the country to support, either in cash or in kind, initiatives to meet the specific needs of the communities within their region.
To share this news on social media, please use @Lowe's Canada, @Moisson Rive-Sud and @Le Dépôt | The Depot Community Food Centre (LinkedIn), as well as @LowesCanadaCorp and @depotmtl (Twitter).
About Moisson Rive-Sud
Moisson Rive-Sud has been the Montérégie region's main food bank since 1992. Covering over 70% of its territory, it collects about 3.2M kg of food from agri-food companies every year, with a total market value of more than $22M, which it then redistributes free of charge to its network of 101 member organizations. Each month, Moisson Rive-Sud helps nearly 18,000 people, 37% of whom are children aged 0 to 17. Through its network, Moisson Rive-Sud processes 46,411 food aid requests every month, and serves a total of 181,984 meals and snacks. Moisson Rive‑Sud's strength is based on $1 = $21, meaning that for every $1 donation, Moisson Rive‑Sud distributes over $21 in food. With operating costs under 5%, the organization multiplies the value of every dollar it gets.
About The Depot Community Food Centre
The Depot Community Food Centre (formerly the NDG Food Depot) is a community-based non-profit organization founded in 1986 that works collaboratively with other community partners to address issues of food security in NDG and the surrounding areas.
Our objectives are to increase access to healthy food for community members in situations of low income, in a respectful and dignified manner; to reduce social isolation and increase participants' connections to a variety of supports; to strengthen skills, knowledge and healthy habits around food; to foster personal growth and community engagement among participants; and to promote knowledge of poverty, social justice and food system issues, and create opportunities to take effective action on these issues. Discover our 20 healthy food programs at depotmtl.org.
About Lowe's Canada
Lowe's Companies, Inc. (NYSE: LOW) is a FORTUNE® 50 home improvement company serving approximately 18 million customers a week in the United States and Canada. With fiscal year 2019 sales of $72.1 billion, Lowe's and its related businesses operate or service more than 2,200 home improvement and hardware stores and employ approximately 300,000 associates. Based in Boucherville, Quebec, Lowe's Canadian business, together with its wholly owned subsidiary, RONA inc., operates or services more than 470 corporate and independent affiliate dealer stores in a number of complementary formats under different banners. These include Lowe's, RONA, Réno-Dépôt and Dick's Lumber. In Canada, the companies have more than 26,000 associates, in addition to approximately 5,000 employees in the stores of independent affiliate dealers operating under the RONA banner. For more information, visit lowescanada.ca.