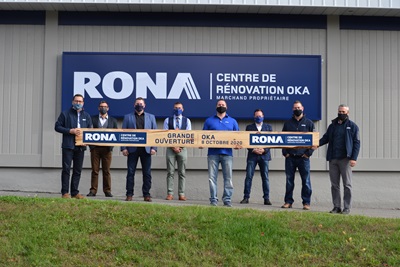 RONA celebrates the grand opening of a new dealer store in Oka, Quebec
Boucherville, QC – October 8, 2020 – RONA, a banner of Lowe's Canada, one of Canada's leading home improvement retailers, joins dealer owners Pascal Ferland, François Tremblay, Simon St-Laurent, and Samuel Brière in celebrating the grand opening of the new RONA Oka Building Centre. Located at 265, rue Saint-Michel in the Quebec municipality of Oka, the store has been proudly displaying the RONA banner since its acquisition on June 1. Over the past few months, the new owners, as well as Martine Vachon, Operations Director, have been busy incorporating the products and services that RONA is known for into the 8,500-sq.-ft. space that has been serving the Oka community for more than 65 years. Due the current circumstances, a limited group participated in the traditional board-cutting this morning to officially mark the grand opening of the new RONA store in Oka.
"We would like to acknowledge all the work that our team has done over the past few months and thank our customers as well as the public for the warm welcome they have given us since we acquired the store," mentioned Mr. Brière during the board cutting, taking this opportunity to thank Ms. Vachon for her outstanding work during the transition. "We are extremely fortunate to be taking over the business founded by the Bastien family and carrying on their long tradition of serving Oka residents," added Samuel Brière.
The expanded assortment of products available in the store now features some 10,000 items. Consumers looking for more options and flexibility can also access thousands of additional products at rona.ca and order what they need in just a few clicks before picking up their purchases at the store at their convenience. Moreover, to provide even more targeted and efficient services to its Pro customers, RONA Oka offers, in addition to its vast 61,500-sq.-ft. lumber yard with drive-through service, a dedicated Pro counter as well as exclusive early-bird access from Monday to Friday, 7 to 8 a.m.
"I am delighted to welcome this new location to our network of affiliated dealer stores and to see RONA's unique offering extended to Oka residents," said Philippe Element, Vice-President, Sales and Dealer Support. "I have no doubt that Samuel and Martine will be able to share their home improvement expertise with consumers in the area and ensure the long-term success of the RONA Oka Building Centre. We look forward to working with them on their current and future projects."
Store address:
265, rue Saint-Michel, Oka, Quebec
Opening hours:
Monday to Friday, 8 a.m. to 6 p.m.
Saturday, 8 a.m. to 5 p.m.
Sunday, closed
Early-bird access for Pros:
Monday to Friday, 7 to 8 a.m.
To share this news on social media, please use @Lowe's Canada (LinkedIn), @LowesCanadaCorp (Twitter), and @centrederenovationronaoka (Facebook).
About RONA
Created in 1939, RONA is a banner of Lowe's Canada, one of Canada's leading home improvement companies headquartered in Boucherville, Quebec. Spanning the entire country, its vast network of more than 375 stores includes both corporate stores and independent affiliated dealer stores. Known for its large in-store and online product selection as well as for its installation services, RONA also provides expert support and advice to its retail and pro customers for their building and renovation projects. For more information, visit rona.ca or follow us on Twitter, Facebook, and Instagram.
About Lowe's Canada
Lowe's Companies, Inc. (NYSE: LOW) is a FORTUNE® 50 home improvement company serving approximately 18 million customers a week in the United States and Canada. With fiscal year 2019 sales of $72.1 billion, Lowe's and its related businesses operate or service more than 2,200 home improvement and hardware stores and employ approximately 300,000 associates. Based in Boucherville, Quebec, Lowe's Canadian business, together with its wholly owned subsidiary, RONA inc., operates or services more than 470 corporate and independent affiliate dealer stores in a number of complementary formats under different banners. These include Lowe's, RONA, Réno-Dépôt and Dick's Lumber. In Canada, the companies have more than 26,000 associates, in addition to approximately 5,000 employees in the stores of independent affiliate dealers operating under the RONA banner. For more information, visit lowescanada.ca.