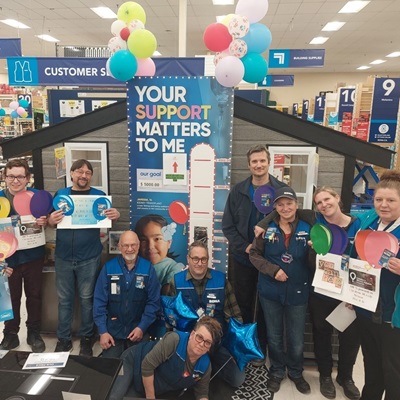 RONA Foundation Donates Over $1 Million to Improve Children's Quality of Life
A total of $550,185 was donated to Opération Enfant Soleil during the 2023 telethon, broadcast on TVA

$467,015 donated to Children's Miracle Network

Since 2018, the company has donated nearly $6 million to these two organizations
Boucherville (Québec), June 5, 2023 – The RONA Foundation, which oversees the philanthropic activities of RONA inc., one of Canada's leading home improvement retailers operating the Lowe's, RONA, and Réno-Dépôt banners, is pleased to announce a contribution of $1,017,200 to Opération Enfant Soleil (OES) and Children's Miracle Network (CMN). From March 27 to May 5, 2023, employees of the corporate and affiliated stores across the country, at six distribution centres, and at the Boucherville head office mobilized to collect donations in-store and online, to sell tickets, and to solicit suppliers.
"Helping to build stronger communities is part of our DNA at RONA. Our employees are proving it once again with this campaign. The year 2023 marks the 25th anniversary of the RONA Foundation, which has redefined its mission for the occasion," says Josée Lafitte, Director of the RONA Foundation. "These are challenging times, both economically and socially. The needs of organizations are greater than ever, and our teams are working hard to support them. I am proud of RONA's commitment to the philanthropic activities under the RONA Foundation."
RONA Suppliers at the Service of the Québec Community
In Québec, once again this year, RONA and its suppliers have put their expertise in the home improvement sector at the service of the Maison Enfant Soleil designed by Bonneville as the official supplier of materials. Thanks to the generosity of 14 of its suppliers and a corporate contribution, the network has maximized its sponsorship to a value of $129,645, covering almost the entire cost of building materials for the house. In addition, participating Québec stores sold raffle tickets for a chance to win the house.
A New Mission to Mark and Important Milestone
The RONA Foundation recently marked its 25th anniversary with a new mission: to help improve the quality of life of Canadians in need by revitalizing their living environments or make it easier to access housing. In particular, it aims to help victims of domestic violence and their children, low-income families, and people with special needs or mental health issues.
For more information on the RONA Foundation's major philanthropic campaigns, visit https://www.ronainc.ca/en/corporate-responsibility/communities.
To share this news on social media, please use @RONAcarrieres.careers (Facebook), @RONA (LinkedIn), and @RONAinc (Twitter).
About Opération Enfant Soleil: Working together for the wellness of Québec's children
Opération Enfant Soleil has been bringing Quebecers together to support the cause of sick children across the province. Over the last 36 years, over $302 million have been donated thanks to the generosity of partners, volunteers, and donors. Thanks to this contribution, around a hundred projects are carried out every year in regional hospitals and major pediatric centres: acquisition of cutting-edge equipment adapted to children's size, creation of comfortable and optimal care environments, local care close to home and family, innovative research projects to go even further. Money is also given to organizations each year to achieve many projects related to the prevention of disease among youth through the Fonds sports et santé durable. To discover all the small and large miracles made possible by your generosity all over the Québec province, visit www.operationenfantsoleil.ca.
About Children's Miracle Network
Children's Miracle Network® raises funds for its 170 member hospitals, 13 of which are located in Canada. Every donation goes back into the community to fund essential treatments, health services, the purchase of pediatric medical equipment, and support research. Its many partners and fundraising programs support its mission to save and improve the lives of as many children as possible. Visit the Children's Miracle Network website to learn more about the cause. In Canada, Children's Miracle Network is managed by the Canada's Children's Hospital FoundationsTM.
Learn more about the importance of community support for children's hospitals, find your network member hospital, and discover how to give where miracles happen at www.childrensmiraclenetwork.ca.
About RONA inc.
RONA inc. is one of Canada's leading home improvement retailers headquartered in Boucherville, Québec. The RONA inc. network operates or services some 450 corporate and affiliated dealer stores under the Lowe's, RONA, Réno-Dépôt, and Dick's Lumber banners. With a long and rich history, RONA inc. supports Canadians in their home improvement and construction projects since 1939. To achieve this, the company relies on a team of 26,000 employees, to whom it strives to provide an inclusive workplace where everyone is invited to contribute. RONA inc. has been one of the Montréal region's Top Employers since 2021. As a result of its ongoing efforts in sustainable development, the company was also awarded the Stratégie de développement durable Mercure award in 2022 and is recognized as one of Canada's Greenest Employers. To learn more about the company, visit the website www.ronainc.ca.