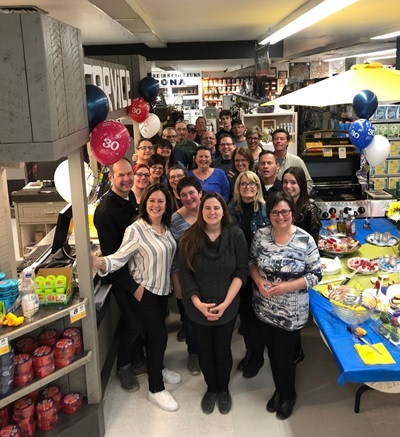 The RONA Haute Matawinie store in Saint-Michel-des-Saints gets a makeover
A $100,000 investment in renovations helps improve the shopping experience
Boucherville, QC – June 21, 2019 – Lowe's Canada, one of Canada's leading home improvement companies, joins dealer owners François Richard and Claude Perrault in celebrating the end of the renovation work at the RONA Haute Matawinie store, located at 630, rue Brassard, in Saint-Michel-des-Saints, Quebec. The family-owned hardware store has been part of the town's landscape since 1972, and Mr. Richard has been working there for over 30 years. His passion for tools, building materials, and construction is matched only by his desire to provide impeccable customer service and help his professional and retail customers carry out their projects. Mr. Richard and Mr. Perrault also own the RONA store in Saint-Zénon.
"The Haute Matawinie area is experiencing a tremendous economic boom. Major new companies are coming in, and consumers' needs are changing. To remain relevant to our customers and continue to be their top destination in the area, we decided to remodel the store. In doing this, we can offer them the products and services they need, as well as an environment where they can easily find what they are looking for," says Mr. Richard. "Over $100,000 have been invested in these major renovations. Claude and I would like to thank our customers and employees for their patience and support during these past weeks."
The 10,000-sq.-ft. store has been completely remodelled to enhance the shopping experience and better reflect new market trends. The transformation is visible right from the store entrance, where a large open space borders the service counter, making it easier for employees to warmly greet customers. The newly redesigned showroom creates more visual space and makes it easier to access the latest outdoor furniture and barbecue models. The store layout and rackings have been redesigned to combine certain departments and present products in a more intuitive way for customers. Even the lighting has been modified to provide a brighter environment.
"The desire to offer first-rate customer service motivated François Richard and Claude Perrault to invest in refreshing their store. We are proud to have dedicated dealer owners like them in our RONA dealer store network," said Philippe Element, Vice-President, RONA & Ace Sales and Dealer Support. "We are pleased to have been partners in RONA Haute Matawinie's success since 2011."
To share this news on social media, please use @ronamatawinie (Facebook), @RONAinc (Twitter) and @RONA (LinkedIn).
About RONA
Created in 1939, RONA is a banner of Lowe's Canada, one of Canada's leading home improvement companies headquartered in Boucherville, Quebec. Spanning the entire country, its vast network of more than 400 stores includes both corporate stores and independent affiliated dealers stores. Known for its large in-store and online product selection as well as for its installation services, RONA also provides expert support and advice to its retail and pro customers for their building and renovation projects. For more information, visit rona.ca or follow us on Twitter, Facebook, and Instagram.
About Lowe's Canada
Lowe's Companies, Inc. (NYSE: LOW) is a FORTUNE® 50 home improvement company serving more than 18 million customers a week in the United States and Canada. With fiscal year 2018 sales of $71.3 billion, Lowe's and its related businesses operate or service more than 2,200 home improvement and hardware stores and employ approximately 300,000 associates. Based in Boucherville, Quebec, Lowe's Canadian business, together with its wholly owned subsidiary, RONA inc., operates or services more than 600 corporate and independent affiliate dealer stores in a number of complementary formats under different banners. These include Lowe's, RONA, Réno-Dépôt, Ace and Dick's Lumber. In Canada, the companies have more than 28,000 associates, in addition to approximately 5,000 employees in the stores of independent affiliate dealers operating under the RONA and Ace banners. For more information, visit lowescanada.ca.