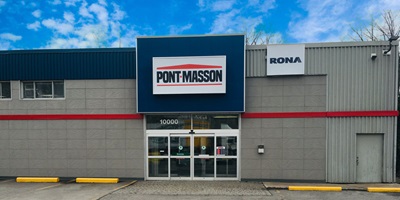 RONA Matériaux Pont-Masson officially opens in the Pierrefonds-Roxboro district
Lowe's Canada celebrates the opening of a new RONA affiliated dealer store in Montreal
Boucherville, QC – April 26, 2019 – Lowe's Canada, one of Canada's leading home improvement companies, is celebrating the grand opening of the sixth RONA Matériaux Pont-Masson affiliated dealer store, located at 10000 Boulevard Gouin O., in Montreal's Pierrefonds-Roxboro district. The opening of this sixth point of sale—which is the first on the island of Montreal—has created 25 jobs. At this store, professional and retail customers can benefit from the quick, accurate, and flexible service RONA Matériaux Pont-Masson is known for. Across its store network, RONA Matériaux Pont-Masson offers more than 40,000 products to bring to life customers' home improvement and construction projects, big or small.
"This new store fulfills our desire to better serve our customers on the island of Montreal and offer our expertise to more home builders, general and specialized contractors, and consumers in the Montreal area. After more than six months of work, we are proud to present today this new location to the Pierrefonds-Roxboro community. We would like to thank our employees and our customers for their support as well as our partners and the team of RONA experts for their help," said Éric and Stéphane Bailey, the co-owners of six RONA Matériaux Pont-Masson stores.
"We are pleased to count visionary entrepreneurs like Éric and Sylvain Bailey in our RONA affiliated dealer network. Matériaux Pont-Masson experienced impressive growth in a highly competitive market over the past seven years thanks to their business acumen and dedication to their customers," says Philippe Element, Vice-President, RONA & Ace, Sales and Dealer Support. "We are committed to supporting our dealers' businesses, which is why we are putting our home improvement expertise, our national purchasing team for lumber and building materials, our major buying power and our dedicated team of experts at their disposal. We are proud to be partners in the success of RONA Matériaux Pont-Masson since 1996."
A specialized offer for contractors and professionals
The new store of approximately 94,000-sq.-ft. includes a 9,000-sq.-ft. sales floor, a 15,000-sq.-ft. indoor lumber yard, and a 70,000-sq.-ft. outdoor lumber yard. It offers professional customers—home builders, and general, industrial, commercial, and institutional contractors—access to a large assortment of services:
A drive-through lumber yard where contractors can load their vehicles to save time;

A personalized delivery service thanks to a fleet of 60 delivery trucks;

A dedicated Contractor Service desk with extended business hours to accommodate the schedules of professional customers;

Complete engineering and estimation services for all projects;

A roof truss and beam assembly service; and

A cut shop that is also available to retail customers.
Founded by Richard Bailey, the company will be celebrating 40 years of business in August. Now run by Richard's sons, Éric and Stéphane, it counts five other RONA Matériaux Pont-Masson stores located in Quebec's Valleyfield, Rigaud, and Mirabel, and in Ontario's Alfred and Casselman. Specialized in contractor and home builder services, the company also has three other divisions: Matériaux Design, an interior and exterior home finishing showroom; Arctic Supplies, an export division in the Far North; and Structure du Nord, a roof-truss manufacturing plant. Since 2012, the company has tripled in size and now employs more than 300 people.
Grand opening events
To celebrate the store's grand opening, customers from the Pierrefonds-Roxboro district and surrounding areas are invited to a BBQ that will be held on April 27 in support of Maison Caracol, Pierrefonds' social pediatrics centre. Many special offers and door prizes will also be on the agenda. Contractors will benefit from a VIP event, gifts, and exclusive contests on May 1, from 5 to 8 p.m. To receive an invitation, please contact the event manager at (450) 371-1162, extension 235.
To share this news on social media, please use @pontmasson (Facebook).
About RONA
Created in 1939, RONA is a banner of Lowe's Canada, one of Canada's leading home improvement companies headquartered in Boucherville, Quebec. Spanning the entire country, its vast network of more than 400 stores includes both corporate stores and independent affiliated dealer stores. Known for its large in-store and online product selection as well as for its installation services, RONA also provides expert support and advice to its retail and pro customers for their building and renovation projects. For more information, visit rona.ca or follow us on Twitter, Facebook, and Instagram.
About Lowe's Canada
Lowe's Companies, Inc. (NYSE: LOW) is a FORTUNE® 50 home improvement company serving more than 18 million customers a week in the United States and Canada. With fiscal year 2018 sales of $71.3 billion, Lowe's and its related businesses operate or service more than 2,200 home improvement and hardware stores and employ approximately 300,000 associates. Based in Boucherville, Quebec, Lowe's Canadian business, together with its wholly owned subsidiary, RONA inc., operates or services more than 600 corporate and independent affiliate dealer stores in a number of complementary formats under different banners. These include Lowe's, RONA, Réno-Dépôt, Ace and Dick's Lumber. In Canada, the companies have more than 28,000 associates, in addition to approximately 5,000 employees in the stores of independent affiliate dealers operating under the RONA and Ace banners. For more information, visit lowescanada.ca.